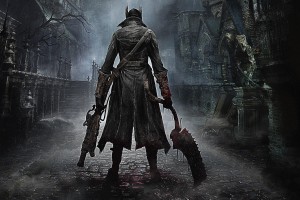 From Software is known for making hard but fair games, and Bloodborne is no different. Playing Bloodborne is a lot like learning an instrument. Once you master the controls, you'll be able to play in a variety of situations with varying tempos and measures. You can usually recover from a few mistakes, but if you make one big sour note or a series of smaller sour notes, then your performance will grind to a slow and painful halt.
It took me 4 to 5 hours just to get to the first boss, and another hour to level up and beat it. During my time, I came up with a lot of helpful hints during my time with Bloodborne. So for those struggling to get through the game or those on the fence about buying it, here are my top ten tips for beginners of Bloodborne.
1. Always Play Online
Literally the earliest thing you can do to give yourself the edge, even before starting a new game, is to play online. Throughout the map, you will see little puddles of grey or red goo. When you interact with the puddles, a messenger will pop out and give you a hint written by a community player. These hints range from alerting you to possible traps and ambushes, pointing out enemy weaknesses, or revealing a shortcut or a treasure. Of course, you'll have to keep an eye out for trolls trying to trick you.
2. Imitate and Intimidate
See the hunter on the box art? Dress like the hunter. Arm yourself like the hunter. Be the hunter.
The first time you die, you are brought to the Hunter's dream, the game's central hub. One messenger on the ground carries three different weapons, an axe, a threaded cane, and a saw blade. Another messenger carries two different guns, a pistol and a blunderbuss.
The two weapons the hunter on the box art carries, the saw blade and the blunderbuss, are the ideal starting weapons as they are the most balanced weapons in the game and allow you to learn the basics in the easiest way possible. The saw blade can make quick attacks in its shortened form and make slow but powerful and long range attacks with its extended form (you can switch forms by pressing L1, even when attacking mid combo). Both are necessary for taking out early enemies. The blunderbuss has a short range but a wide spread, which is ideal for slowing fast enemies or catching opponents before they make an attack.
The hunter's garb sold by the bath messenger in the Hunter's Dream (next to the doll) provides a much needed early boost in armor, which is great as you cannot unlock the living doll to level up until you encounter the first boss, the Cleric Beast (you don't have to defeat it, just encounter it). Defeat the enemies in the first street of Central Yharnam leading up to the first big burning cross with a werewolf (the game uses burning crosses as landmarks by the by) and then run back to the lantern to go to the Hunter's Dream after collecting 2,500 blood echoes (the game's currency).
Be careful not to die, however, as you lose all of your blood echoes when you do. The only way to get them back is to either run to the spot where you dies and interact with your own bloodstain or to kill the enemy that stole them (you'll know who it is because their eyes glow purple).
Of course, you're free to explore different loadouts and find your ideal setup. But the above setup is best for beginners.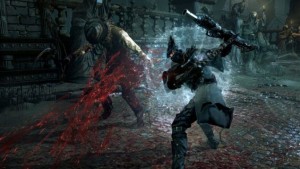 3. Take Everything Slowly
Take everything slowly – and I mean everything. Even the most basic of enemies can kill you, especially if they attack in packs. There are ambushes waiting to snag unsuspecting players around corners and in dark places. And running can alert groups of enemies to your location. If you rush into every situation guns blazing and buttons mashing, you will die.
Your enjoyment of this game is best when you take the time to work out situations and explore. Don't feel like you need to rush anything. And if you have a moment, it's great to look around and see the gorgeously dismal sights.
4. Learn How to Dodge and Counterattack
Dodging is paramount to survival in Yharnam. You can press the circle button for a short back step or the same button while moving to roll.
All of the enemies have set patterns and animations for attacking. With each attack, there's a window of time where they're winding up another attack. During this window, you can either roll to the side or behind an enemy as they attack and then follow up with quick swipes of your weapon (you can do more damage if you attack the sides or back of an enemy), or you can quickly shoot your gun with L2 as the enemy attacks.
If you catch an enemy with a bullet as they attack or dodge behind them and pull off a charged attack with R2, then a metallic chime will sound. When it sounds, immediately hit R1 for a visceral attack, a stabbing attack that takes out a huge chunk of health.
Also, be sure to hit R3 (by pushing in the right stick until it clicks) to lock onto enemies. You can also quickly hit the right stick left or right while locked on to switch targets. Locking on is very important as it keeps opponents in your sights and focuses your attacks on them.
5. Use Stealth
Sneak up on enemies whenever you can. This tactic is especially useful if the enemy is facing away from you. You can sneak up, hit it with a charged attack, and then follow up with a visceral attack. I recommend extending your weapon first so that you don't get too close and alert it.
Bloodborne does not have a sneak function per see. There are three movement speeds, normal walking by lightly tilting the left stick, normal running by fully tilting the stick, and sprinting by fully tilting the stick and then holding down the circle button. Enemies don't hear you if you're just normally walking, so you can sneak up that way.
6. Farm
Channel your inner Wisconsinite and farm enemies for blood echoes so you can buy items and level up. Enemies respawn whenever you enter and exit the Hunter's dream from the lanterns.
Many would consider this to be grinding, but you can still die and lose all of your blood echoes. So use the opportunity to practice dodging and counteracting. Just try not to use up all of your items and bullets.
7. Spacing is Important
Learn the correct distance to engage enemies. Most enemies attack from close up, but if you make an attack and you're too far away from an enemy, then you leave yourself open to attack. This is why switching your weapon between its extended and shortened forms is so important, you can engage quick enemies using the shortened form of your blade and attack stunned, slow, or far away enemies with the extended version. You can also lock enemies into a hit stun with quick attacks and then extend your blade mid combo and finish with a stronger attack.
With large enemies, like the Cleric beast, it's useful to dodge into them. This may seem unnatural, but dodging into or towards large enemies or enemies with long range attacks (such as those with rifles) will allow you to get behind them so you can attack with extra damage.
If an enemy is behind a structure of some kind, then they can't see or attack you. You can even push enemies off of ledges to take them out or prevent them from attacking you. In the area in Central Yharnam with the villagers surrounded by the big burning cross with a werewolf attached to it, there's a villager with a big, floppy hat and a rifle (I like to call them Cats in the Hats just because) on top of a ledge. By sneaking in the space between a carriage and a wall (the one with a rabid dog in it), you can lock onto the Cat in the Hat (using R3) and shoot it to push it off the ledge. That way, you can take out the villagers surrounding the bonfire without worrying about the enemy sniping you.
8. Be Aware of Your Surroundings
Your sense of hearing and sight is just as important as your dexterity. All of the enemies have a distinctive sound, from the scraping of the ax dragged by a villager to the groans and stomps of the Brick Troll. This allows you to anticipate what kinds of enemies you're up against and plan accordingly. And if you hear the pitter patter of feet, then a pack of enemies is closing in on you. And if you hear laughter or talking behind a door, be sure to go up to it and knock (when the prompt appears) as the people inside can offer side quests.
By moving the camera around (using the right stick) you'll be able to peer around corners to see if enemies are waiting for an ambush. And keep your eyes peeled for white, glowing orbs as they indicate where items can be found.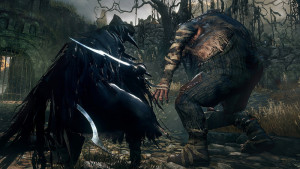 9. Explore
Even though the world of Bloodborne is mostly made up of corridors and narrow city streets, there are tons of secrets rooms and shortcuts to find. An important shortcut early on can be found in a dark house along the bridge after you fight the two Lycanthropes, just be sure to first grab the torch from the corpse in the area where the Brick Troll is banging on a door (after the burning werewolf cross).
10. Talk To the Community
Don't be afraid to get help from the community. However, don't cheat and use a walkthrough or a lets-play. Your enjoyment of this game is at its peak when you discover and work through problems either by yourself or with help from friends. I got tip #2 (Imitate and Intimidate) from the Gamestop cashier who sold me the game.
The only time you should look up the wiki is for more information on items. The in-game descriptions can be a bit too cryptic when they really don't need to be. For instance, the in-game description for the Sword Hunter Badge, which you get after you beat the Cleric Beast, reads, "One of the badges crafted by the Healing Church. The silver sword is a symbol of a Church hunter. Ludwig was the first of many Healing Church hunters to come, many of Whom were clerics. As it was, clerics transformed into the most hideous beasts." The item unlocks the Kirkhammer, repeating pistol, and Bold Hunter's Mark in the shop.
I really hope that you find most of these tips to be useful. And I sure do hope that you pick up Bloodborne. It's one of the best gaming experiences I have ever had, and it's a very strong contender for my game of the year award for 2015.
If you have any helpful tips of your own, then feel free to leave a message in the comments below. I'm very curious to hear about what tips you guys found to be useful.