The Kardashians, America's First Family according Cosmopolitan, rose to fame after their insanely successful TV series Keeping Up With The Kardashians (KUWTK) first aired on E! cable network in 2007. After 11 seasons and 157 episodes, it is safe to say the family have their own language… or at least lingo.
The series focuses on the Kardashian-Jenner relationships of sisters Kourtney, Kim, Khloe, Kendall, Kylie, brother Robert, mother Kris Jenner, and father Caitlyn Jenner (previously known as Bruce Jenner). Also repeatedly featured in the series is Scott Disick, Lamar Odom, Brody and Brandon Jenner, Leah Jenner, Jonathan Cheban, Malika Haqq, and Kanye West.
With a wide variety of personalities, KUWTK often has extremely humorous moments, which ultimately helped create this dictionary.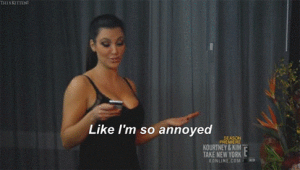 Annoying: Frequently used by Kourtney or Kim.  Used when a Kardashian is "over" a conversation or person.
Anxiety: The Kardashian's throw this word around whenever they are becoming overwhelmed by a person, conversation, or moment.
Ass: A word the Kardashian's love and a part of the body their definitely most known for, specifically Kim. They are obsessed with their booties and especially talking about each others.
Baggage: Faults or flaws that come along with a person or an entire family.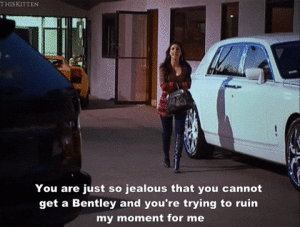 Bentley: Kim's new car that her sisters were obviously just jealous over.
Bible: Described by Khloe herself, this basically means "a word you can't go back on" or that you are not telling a lie.
Diamond Earrings: A very prized possession of Kim's in which she loses in the ocean. The worth of these earrings was $175,000 and was found by Kim's ex-husband Kris Humphries.
D*ck: Typically used in place of "jerk" or "assh*le" and frequently by Khloe.
Doll(s): Another word for "darling" or "dear" used by the Kardashians for friends and family. The employees of their Dash stores are referred to as "Dash Dolls" and have their own spin-off series.
Douche Lord: An insulting name used by Khloe back in the day when she didn't like Scott.
Dramatic: This is typical used when someone is crying or upset over something that the opposite person doesn't care for.
Fab: The Kardashians typically shorten their words – fab being one of them, which is short for fabulous.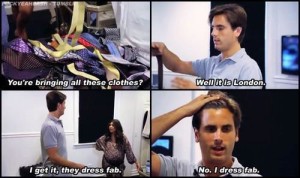 F*ck: An everyday word for the Kardashians. How the average person says "like" in-between words, the Kardashians use "f*ck" and isn't typically in an aggressive tone.
Jam: An iconic song by Kim, titled "Jam (Turn It Up)".
Joke: When something isn't actually a joke but the Kardashians really wish it was.
Holy Sh*tballs: An expression used by Khloe in replace of "holy sh*t".
Keeks/Keke: A nickname for Kim used by North, Mason, and Penelope
Koko: A nickname for Khloe used by North, Mason, and Penelope.
Kyle/Kenny: A nickname for Kendall used by North, Mason, and Penelope.
Literally: The Kardashians way of saying honestly. This is famously used by Kourtney, "You're literally being so rude right now."
Lord: Referring to Scott and his new title as Lord Disick, LD, or just The Lord.
Mase: A nickname for Mason.
Mental Breakdown: Used by the Kardashians when they are really stressed or hurting.
Nori: A nickname for North.
P: A nickname for Penelope.
Peasant(s): A term used by Scott for anyone who isn't him or the Kardashians and who he doesn't like being compared to.
Ridiculous: A word used when somebody or something is being over the top.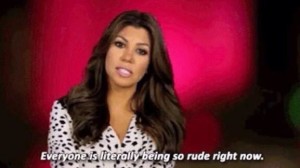 Rude: Typically used in a sister argument when someone disagrees with an action from the other(s). Famously, when Kim caught Khloe and Kourtney talking sh*t and she started beating them with her purse.
Selfie(s): A picture of yourself with the perfect tilt of the iPhone, lighting, and editing. Kim is noted as the selfie queen.
Sex Tape: A video with Kim which is said to be the reason for the family's success. Also, a tape of Kris and Caitlyn's (formerly known as Bruce) that Scott and Kourtney reenacted.
Shady: Another word for rude or when something doesn't seem right.
Stress/Stressing/Stressed: The Kardashians feel this emotion a lot and sometimes too dramatically.
Taco: A Mexican dish that Kourtney wanted to shove up Kim's booty.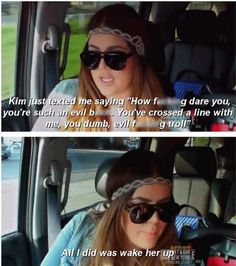 Troll: A term used by Kim to describe Khloe after waking her up.
Ugly Crying Face: Kim's face when she cries.
Vagine: Another word for the lady part – typically by Khloe.
Xanax: Whenever Khloe feels flustered or someone around her is stressed, she tells them to pop one of these.
Yeezy/Yeezus: A nickname/stage name for Kanye West.
KUWTK airs brand new episodes Sundays at 9/8c on E!