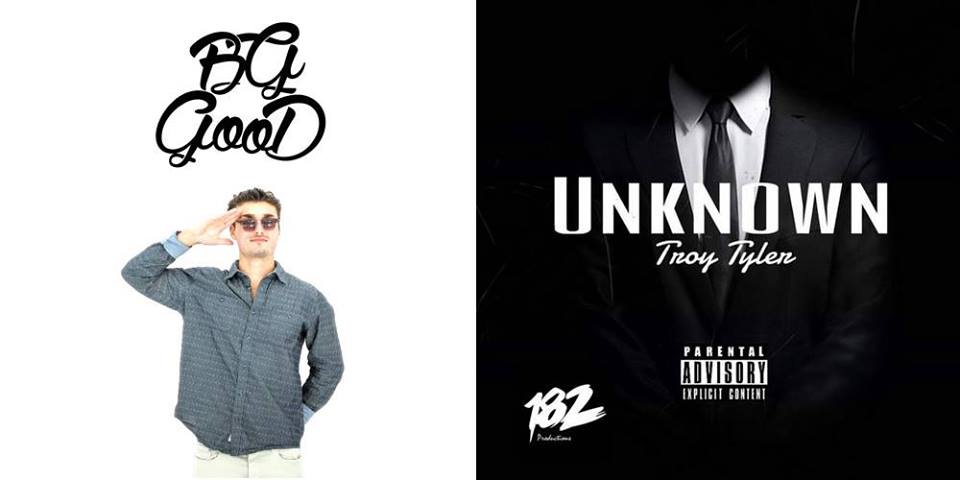 A few years ago, UWM sophomore Bryan Gorelik was just freestyling for fun. Now, he raps onstage, and has opened for some big names. Otherwise known as BG GooD, he has opened for Tech N9ne, Big Sean, Travis Scott and Young Thug.
Theatre major and R&B singer Troy Tyler recently released his first mixtape, "Unknown." He will perform with BG GooD at the UWM Fireside Lounge on Wednesday, April 6, at 7 p.m. The show, which is free and open to the public, was coordinated by the Campus Activities Board.
I talked with BG GooD and Troy Tyler to learn more about their music and inspirations.
---
When did you decide to start performing and why?
BG: I decided to start performing about two years ago, mainly because I wanted to get my music out there and gain some exposure in the city.
TT: I started performing in church when I was a little kid; I sang in the kids' choir.
What's your favorite performance that you've done so far?
BG: My favorite performance would be opening for Tech N9ne. I pulled a huge crowd and I got everybody jumping! Lots of good energy.
TT: So far my most memorable performance was at the Miramar. It was my first one I've ever done and it was amazing. My friends showed up and the energy was amazing.
How do you feel before getting onstage?
BG: I love performing. Sure there are some nerves, but for the most part it's a blast.
TT: I usually have to go to the bathroom, but once I get on the stage that feeling just goes away and I rock the show. I have a lot of confidence in my music and I know if I go up there and give it my all everything is going to go fine.
What's your favorite song to perform?
BG: "Day by Day" is one of my favorite songs to perform. It is a song that tells a story and that I relate with on a very personal level. The crowd seems to catch on to the chorus pretty easily so it's always fun to perform it.
TT: I love singing "A Change is Gonna Come" by Sam Cooke. I feel like I've sang that song everywhere! My parents enjoy that song as much as I do so I think that it's the fact that when I sing it I'm singing it for my parents and me that makes me love it so much.
Are there any venues that you really want to perform at?
BG: Being from Milwaukee I would love to perform at Summerfest. But I am not limited to that. Really it is about expressing my music and seeing if people are enjoying it or not. I love getting new fans.
TT: I really want to perform at Pantherfest, The Rave, Summerfest and a Bucks Game. I feel like performing at an awards show goes without saying, but I love my city and I want to perform at every big venue here.
Is there anyone you want to collab with? Who?
BG: I would love to collab with any local names. The Midwest has some good talent. In the bigger picture, Vince Staples, Mac Miller and Bryson Tiller would all be amazing collab opportunities.
TT: I really want to collab with a lot of artists, but the ones I really want to work with are Kendrick Lamar, J. Cole, Kanye West and Tinashe.
You write a lot of original music; where do you get the ideas for it?
BG: My music ideas come from a lot of things. Sometimes my lyrics reflect on my mood. Sometimes they're about something on my mind. Sometimes I record a freestyle. Many times actually I come up with my lyrics while listening to music in the car.
TT: My parents always told me that when I write music, base it off of life experiences because those are the ones that mean the most. So everything that I write I've been through. Relationships are really the best topic because no matter what happens in them, someone in the world has been through it before. My songs come from the heart, not just random things around the room like most of the other artist in the industry.
Are there any artists that you look up to or inspire you?
BG: I am inspired by fellow underground artists that grind every day. The way I see it, we all push each other to step it up more and more every day.
TT: Artists that I look up to are Kanye West, Kendrick Lamar, J. Cole and Chris Brown. I love how real they are and how they do and say what's on their mind. A lot of people don't say things because they are afraid of what others will say but everyone is entitled to their own opinion. No one should ever feel afraid to speak their mind through music or everyday conversation.
Has your work been influenced by any other artists?
BG: Sure, my work has been inspired by the work of my favorite artists: J Cole, Mac Miller and Dizzy Wright. Not only am I inspired by their music, but also by their work ethic.
TT: I feel like my music is a mix between Chris Brown and Bruno Mars, or at least that's what people tell me. I have also heard Trey Songz too, but I try to make my own sound amongst them all.
How do you balance music with school and everything else you have going on?
BG: It is all about prioritizing. School brings a big work load but it is a priority and something I have to keep up with. Working on music is something I love and it is a great way to blow off some steam when I am stressing. Balancing the two can get very stressful, but work hard, play hard.
TT: It's been a little hard trying to balance everything but I usually slide in my music whenever I have free time. There isn't one day that goes by that I don't work on my goals.
What else do you have planned for your music career this year?
BG: I have my first studio mixtape 'Above Average' dropping May 1. I am extremely excited about the project. The video to my bonus track Pillow Talk is also in the works and I am very excited and proud to say that I am performing on the runway at this year's Milwaukee Fashion Week downtown in September!
TT: I'm working on two music videos for songs that were released on my first mixtape "Unknown". I am also working on a few new remixes, one of which I am going to perform at the concert on April 6. I really want to drop an EP in the summertime, but we'll see how everything pans out. But best believe I will be having a lot of new music drop that will be on the radio!