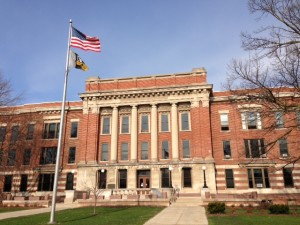 Precautionary measures of gun safety are taken at UWM.
A peaceful setting can turn into a not-so-calm setting in a matter of seconds if the University of Wisconsin-Milwaukee does not have a safety plan of action in the event of an attack. With safety being a top priority of the University of Wisconsin-Milwaukee Police Department, their mission is to provide a safe and secure environment to learn, live, and work.
The UWPD has a mission of providing professionalism as well as enforcing the law on campus. The staff members consist of: 42 full-time certified police officers, four dispatchers, several full-time professional administrative employees and over 35 security officers.  University officials are working around the clock 24 hours a day, seven days a week, year-round delivering a safe atmosphere to the community.
There are numerous "Blue Light" SAFE phones around campus and they are simple to use. SAFE phones are attached to yellow poles around campus, labeled "EMERGENCY," and are easy to identity. Just open the door and press the button inside. Each SAFE phone has a location tracker on it and a safety official with meet you at your location in a matter of minutes. SAFE phones are designed for the convenience of the student body and staff members to contact the University Police in the event of an emergency.
"I am aware of the "Blue Light" SAFE phones around campus," said Arnesha Love, a sophomore studying American Sign Language interpretation at UWM. "I make sure I know where they are to protect myself, even though majority of them are seen around the Student Union," said Love.
It is important to address the precautionary measures of public safety if a seemingly peaceful seen were to turn violent. UWM holds roughly 32,000 members of the student body as well as a large amount of faculty and staff members. Awareness of what to do during a dangerous situation is very important at the University.
"I believe that they (UWPD) should make students feel more safe, especially when they are walking home at night," Scott Vieau, a freshman studying nursing at UWM. "If we were under attack, I'd think: When are the real guys getting here, like the city of Milwaukee Police Department," Vieau said.
If there ever is an event of emergency and you are in a building with an active shooter, exit the building immediately only if it is safe to do so. The University Of Wisconsin-Milwaukee Police Department encourages you to notify anyone along the way that you come across of what is going on. The next important step is to get away from danger and take protective cover while you wait for assistance to arrive. Call 9-911 if you are on campus or 229-9911 if you are off campus. Provide the authorities with your name, exact location, number of suspects (if known), identification of suspects, and number of weapons being carried as well as any injuries present to those around the area.
The Dean of Students, Director of University Housing, or Vice Chancellor for Student Affairs are to report crimes that may potentially impact the safety of students or staff of the University to the safety officials. Judgment of a situation will be conducted by the Chief of University Police as the campus requires a "timely warning." University Relations will issue a warning through the university email to students, faculty, and staff members. The warning also will post to the University Police website. Any crime report given to the University community will not release the identity of victims or witnesses if they wish to remain anonymous in the situation.