"People want good food.
People deserve good food.
I am going to give it to them.
And I will not murder them on the price."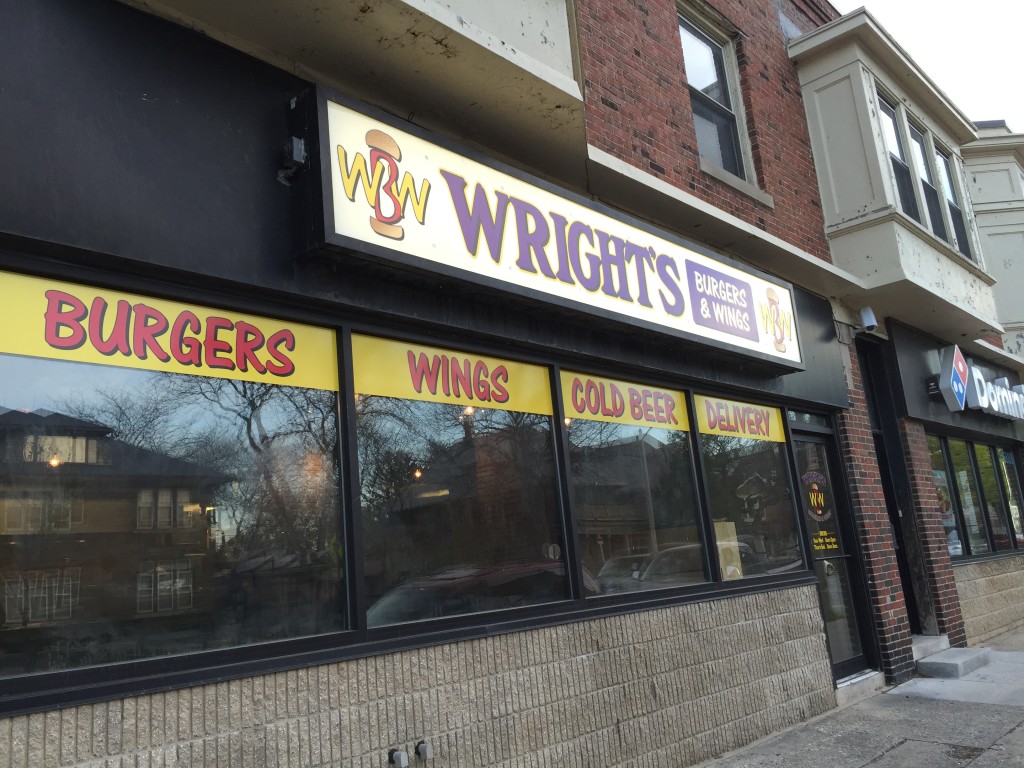 This is the creed of Damien Wright, owner of Wright's Burgers and Wings, formerly American Euros. Since American Euros closed in December, Wright has been working around the clock to re-open the space. Now that all of his licenses are approved, he is counting the days down until he can open the doors to the neighborhood.
American Euros started off as a food cart, serving up gyros downtown. Then in the fall of 2012 Wright and his partner, Mark Miller got the permits to open up shop at their current location at 3133 N. Oakland Ave. The spot was a hit. Their low prices and late night delivery made them just as popular as their next door neighbor, Jimmy Johns.
However last fall, Miller decided he wanted to drop out of the restaurant business. This led Wright to redo the entire concept of the restaurant. Wright even had some help getting new licenses and permits. Local alderman Nik Kovac helped him to get into council meetings.
When the doors re-open, loyal customers will see a different restaurant.
While the walls and tables remain the same along with Wrights welcoming attitude, the menu is drastically different. Before, they served greasy gyros and other various sandwiches. Now Wright is transforming the menu entirely. Instead of gyros, Wright is now serving burgers and wings. The one remnant of the old menu is the loaded fries and the Mary Had A Little Lamb Burger, which is an entire gyro on a hamburger bun.
However the one item Wright is most excited for is the Everything Wright Burger, or the Monster Burger as he likes to call it. Four different meat patties (Beef, chicken, bacon, and lamb),four cheeses, lettuce, tomato, raw onion, pickle, fries, two cheese sticks, a fried egg, house ketchup, and onion rings all on one bun.
In case one wonders what a bacon patty is, it is Wright's own creation. It is the key part of his take on the BLT. Instead of a few strips of bacon, He waves many strips together to form an entire patty.
Another new item Damien is bringing is wings. One of his proudest creations, Wright seasons and marinates his wings in his own special reciple for days for a deep flavor. All are available with his selection of sauces that he hand makes. Every Sunday, he will be bringing in his home made braised wings.
"The braised wings is my own special thing that I've been doing at my house and for my friends for the last couple years," says Wright. "What I do is I make a chicken stock from scratch, then I take that and make a gravy out of it. I grill the wings, then I put the wings in a pan with the gravy and some veggies. Cover it up tight, cook it low and slow for a couple hours. These wings literally fall off the bone. If you grab it by the bone, the bone will slide right off."
At first he will make them only available on Sundays with limited supply because of the time to make them. However, if a customer orders it a day in advance, Wright is willing to make them any day of the week.
Another weekly special will be his fish fry. He plans to put the fried fish patty along with lettuce, tomato, raw onions, and tarter sauce on a rye bun. The rye bun is a exclusively created bun just for Wright by Sciortinos  Bakery on Brady St. All of their buns will be provided by Sciortinos.
Being in a college neighborhood, Wright also knows that a lot of his clientele is on a budget. This has led him to create a value menu, which will feature a similar build a sandwich menu, but in a smaller size for cheaper.
Also to bring in more college students, he is adding TV's to the restaurant along with a beer license. He plans to host viewing parties for any sport, as well as showing movies.
However to expand his clientele, Wright is adding a kid's menu, so families will stop by as well.
"I want everyone to want to come here for some food," said Wright.
As of now, Wright is still tweaking his menu, getting all his equipment set up, and hiring new employees. He plans to open up fully around May 18th.