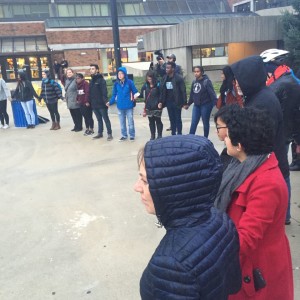 Joining hands to create a barrier against violence, the campus community gathered in Spaights Plaza Monday for a moment of peace.
"Following the numerous, recent attacks against civil societies of our world, we felt the need to come together…to be together for comfort," said French Professor Sarah Davies Cordova.
As the city of Milwaukee paid tribute to Paris (red, white and blue lighting on the Mitchell Airport letters and the display of an Eiffel Tower replica at City Hall), the UWM vigil sought to honor all lives lost and affected by the recent string of terrorist attacks.
Tragedy in recent months include:
Massacre in Paris (killed 129 and wounded 352)
Double suicide attack in Beirut (killed 43 and wounded 200)
Bombing of a Russian airliner (killed all 224 passengers)
Beheading of a 16-year-old Tunisian boy
Airstrikes on ISIS over Syria
"It's important to recognize that these are terrorist attacks; this is not what humanity is about," said Davies Cordova.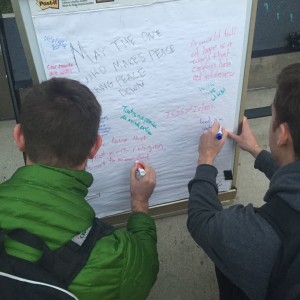 While blustery wind and light rainfall appropriately set the mood for the vigil, it didn't keep architecture student Nhia Lee from passing out unlit candles.
"Now is a time for us to be in solidarity," said Lee. "In this tragedy we have to stand together."
Students also signed and doodled ideas of peace onto large Post-it boards. The phrases "ISIS doesn't equal Islam" and "pray for humanity" appeared again and again.
Six students and one faculty member, currently studying in France, are safe.