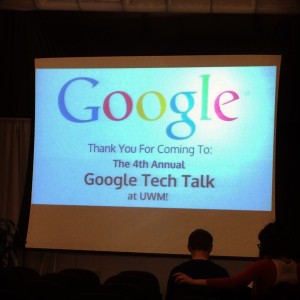 The talk featured three employees of the Silicon Valley tech giant, including two former UWM students, speaking about their role in the company and what current students can do to get internships and full-time employment at Google.
Cookies made to look like the Google "chrome" logo and other 'Google swag' were given out before Google student ambassador Anthony Jesmok took the stage to introduce the speakers, who were being projected on a screen next to the stage via Google Hangout.
The first speaker was Charlene Clee, Google's University Programs Coordinator. She spoke about the programs and departments computer science students have the ability to be selected for at Google and the interview process someone goes through to get a job or internship at the company.
The next speaker was Ben Kuemichael, an engineer in data center automation at Google. Kuemichael is a UWM graduate and explained his role in the company, as well as his path from UWM to the company. Kuemichael also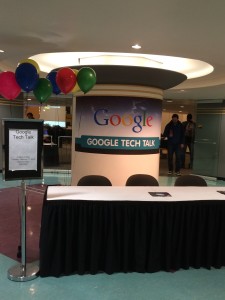 went over the role of data centers in the grand scheme of what Google's products and services do.
The final speaker was another UWM graduate. Alex Dobkin, who is an engineer in Google's security team, also spoke about his role in the company. Dobkin also briefly went over the processes the entire information security team does for Google.
After the speakers were finished the floor was opened up to questions. Questions ranged from privacy concerns in Androids software to the future of Google Chrome, with students receiving Google bags for asking questions.
One student asked for tips on how to become a full-time employee at Google. "I would recommend getting as much practical experience as you can," said Kuemichael.