Nearly 200 people rallied in protest outside the house of the UW-Milwaukee's suspended fraternity Tau Kappa Epsilon (TKE) on Thursday night. The protests follow allegations of female students receiving "date rape" drugs during a party TKE hosted on Sept. 13.
The student organizers, a Facebook group called End Rape-Culture UWM, created the Facebook event "Take Back the Night," with the goal to "send a clear message and warning that we will not tolerate rapists on our campus."
The dozens of upset students began their march at Riverside Park at 9 p.m. and continued down Oakland Avenue. They chanted sayings like "a dress is not a yes" and "stop the silence, end the violence."
Once the group reached the house at 3321 N. Oakland Ave, female activists stepped into the spotlight in front of the house and shared personal testimonials of being survivors, rather than victims, of sexual assault.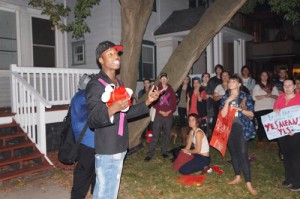 "I saw students that I worked with in the past that have been victims and came here and got support," said Sue McCarthy, interim director at the Women's Resource Center.
"I'm out here tonight fighting against the atrocities at what I thought was a safe school," said Becky Holt, a student protester majoring in women's studies.
The protesters did not stop at the house, but continued down through campus, jeering demands that TKE leave the university. The marchers clogged Kenwood Avenue, Maryland Avenue, and Locust Street and drew residents outside of their homes.
"I never expected things to get like this. The police are everywhere," said Luke Schulz, a student who watched the action from the 2900 block of Maryland.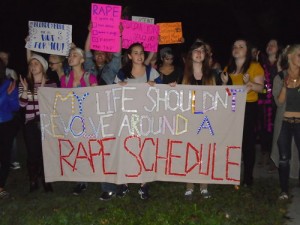 The traffic stopping protesters said they were proud of the attention they attracted from many students and east side dwellers on their greater-campus-area route. With the national attention that the TKE case has received, their goal is that recognition of "rape culture" does not stop there.
"Hopefully this will be greater than just campus, hopefully citywide, and hopefully national," said Carmen Quinlivan, a student that monitored the protest.
But not all were so supportive of the group.
Alia Tahiri, a student at UW-Madison, posted on the "Take Back the Night" Facebook page:
"This group is absolutely disgusting. Calling an innocent group of men rapists makes you no better than the person who may have actually caused the incident. You all are mindless sheep."
Others agreed that the group was premature and too strong of a reaction as no TKE members, nor their president had been charged with any crimes yet.
Despite disagreements, the ralliers received little problems on the streets and mostly support from the bystanders.
"The protest was very peaceful, very well organized. I am proud that the students were able to voice their opinions in a safe way," Dean of Students Tim Gordon said, who was there to provide student safety.