On October 31, UW-Milwaukee students received an email alerting readers of three crimes near campus. Students are questioning the use of a mass email that replaced the usual safety alert procedures. Though one of the events occurred on Oct. 23, students were not notified until Oct. 31. The proximity of the crimes raised concern, prompting students to question the events we never hear about. Chief Joseph LeMire clarified this occurrence:
"We first had an incident that happened in our patrol area. The information was skewed when it came to us, and it didn't sound like a strong-armed robbery; so, we didn't send a message right away. We found out the next day that it was actually a strong-armed robbery, but it wasn't timely anymore. Shortly after that, on October 30th, we found out from the Milwaukee Police Department had 2 armed robberies that occurred outside our normal patrol area."
Due to the uncertainties of the first incident, along with the proximity of the second and third crimes, the UWM Police Department decided to send out the mass email. Though they were no longer extremely recent crimes, the email reminded students to be alert and take safety precautions. The Police Department also urges students to be constantly aware of their surroundings and report strange behavior to their non-emergency line, 414-229-4627.
The incident summaries also lacked physical characteristics describing the suspects (aside from sex and clothing descriptions.) LeMire also clarified this reasoning:
"If you were to say the racial makeup of a person and its very vague (say black male, 5'10, 150 pounds, dark hooded sweatshirt and dark jeans), that doesn't really eliminate any identifying characteristics. But, it could put people in a situation where they're being stopped needlessly. We use these criteria: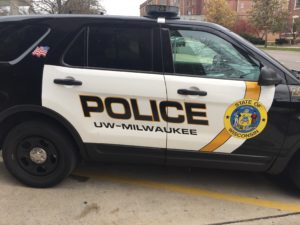 Are they positive the suspect is of a particular race?
Was the incident in close proximity that students would need to know to keep them safe?
Are there clothing descriptions that would set them apart?"
These criteria are only useful when released in a timely manner and help ensure proper suspect identification.
The campus and surrounding neighborhoods are currently safer than they have been in prior years.  "There's actually been a decrease in crimes. In the Upper East Side, violent crime is down, too." LeMire also commented on increased patrol units between 9 p.m. and 3 a.m., and better officer initiation procedures.
As stated in the email, "an informed community is a safer community." Self-awareness is the key to staying safe; taking earbuds out of your ears, not staring at your phone, and watching where you're going will decrease the likelihood of becoming a victim. For more safety tips and information on self-defense classes, head to the UWM Police Department website.