Milwaukee resident Sam Nelson sits in a soft green and lavender print armchair. His blue eyes gaze to the right with the light hitting that side of his face aglow from the window behind him. With his hands clasped in his lap, he wears a blue cardigan and similarly colored jeans. He wears neither a smile nor frown, but appears relaxed and pleasant. In the corner, a mirror reflects an image of a green plant.
He sits as UW-Milwaukee senior Mandy Litwin photographs this scene. It took a month for Litwin to pick the topic for her final photography project, and it is taking a year, and beyond, to create it. With Nelson's help, she is one step closer.
Since September of 2016, Litwin has been photographing portraits of members of the LGBTQ community, and has no intentions of stopping after the completion of her class and graduating from UWM.
"This is an ongoing project," said Litwin. "My goal is to portray the people in my life in a respectful way that tells the world that we are all just one people."
Litwin's best friend of eight years, Nelson, was one of the first subjects she asked to photograph.
"Even if we don't necessarily feel, or need to feel, important, we kind of want to feel important," said Nelson. "I want to feel like I belong and she makes me feel like I belong."
He, along with many other members of the LGBTQ community, has felt the heavy burden of the current state of politics and it has caused him to feel concerned for the future.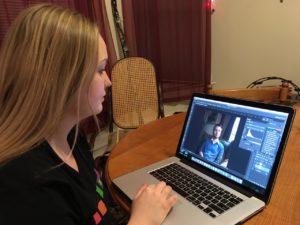 Just days after President Trump's inauguration, the LGBT page on the official White House website was taken down. Earlier this month, the Trump administration withdrew federal protections for transsexual students.
Litwin hopes to use her position as an artist to make statements on social issues that affect the community. She has received great support for this project.
"A lot of people in the LGBTQ community think it is cool that I am doing this and the people who I have explained the project to have been very supportive," said Litwin. "As someone who identifies outside of the LGBTQ community, I think it is important to stand up for what is right, even when these things may not have direct effects."
Litwin received her first camera in second grade and has been taking all kinds of photos ever since. This specific project felt inevitable to her.
Growing up in the small town of Mukwonago, Wisconsin, Litwin's project has been greatly influenced by her past. The "small-town-mentality" she was surrounded by during her childhood created a passion within her to defend equality. Many of her friends and loved ones are a part of the LGBTQ community, and especially with changes in current political events, she feels like it is important now more than ever to stand for what she believes.
"When it comes to politics," said Litwin, "it was exciting to see the milestones that we made while Obama was in office. It led to every state allowing everyone to get married regardless of sexual orientation."
The current state of politics, though, worries the photographer.
"It is a concern that these rights may be revoked or disrespected, so my project is just another form of the fight that continues to challenge the LGBTQ community every day, and while there have been a lot of leaps, there is still a lot of work to be done."
Another of Litwin's subjects, Anthony Drew, has expressed both appreciation and enthusiasm for the project.
"I like this project because it has nothing to do with actions or things gay people do, you know?" said Drew. "It is a picture of a person and you cannot tell any sexual orientation from it. This project is so simple that it will make people that are biased against gays or homosexuals ask why they are biased. It is just a picture of a person."
This is the final project Litwin and her classmates have been working towards since they joined the Peck School of the Arts at UWM. Each student has the ability to choose their own topic for their project. Each student in Litwin's six-person Senior Project in Photography class is required to create and exhibit their project and dedicate, not just a semester, but the entire year to it. Their projects vary from environmental to social issues, and everything in between.
Litwin has already taken hundreds of photos for this project and spent countless hours shuffling through and editing them to perfection.
Her photos are quiet and naturally lit. They are intimate portraits of her subjects. Litwin goes to their homes and photographs them in a comfortable setting. She has taken these portraits with some of her closest friends, but also with people whom she first met upon entering her homes. Although she has many LGBTQ friends, networking has also been very important.
Litwin will be graduating with a Bachelor's of Fine Arts degree in June, but she plans to continue taking photos for this project and showing her work. She is unsure of the future of her project, but she is excited to see where it can take her.
"Although I believe people who have the same beliefs as me will agree with project, I hope others who may not believe the same way I do can look at these pictures and see that these are just people," said Litwin. "I am trying to show equality, that is the gist."
The Bachelor of Fine Arts in Photography exhibition, "Coalesce," will feature 15 to 20 of Litwin's photos, as well as her classmates' projects. Litwin has 14 portraits completed.
The exhibition will occur on April 14 at the Live Artist Studio on 228 S. 1st st. in Milwaukee. Details are to be announced.