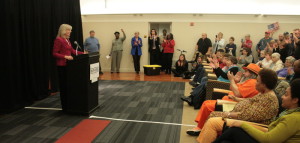 Photo credit: Sean Cornell
Democratic candidate for governor Mary Burke focused on issues that face Wisconsin students such as college costs and jobs after graduation during her campaign's visit to Fireside Lounge in the Union on Saturday afternoon.
The crowd of more than 200 listened as Burke promoted the importance of cutting costs for higher education, and making college accessible to all to stay competitive in the jobs market.
"(College) is getting farther out of reach and one of the main reasons for that is the cost of higher education,"  Burke said. "For our economy to grow, we need an educated work force."
She said that student's in the upper quartile financially have a better chance of receiving a college degree than a student in the lowest quartile financially, regardless of their economic achievements .
"That's not what the American dream is about," Burke said.
She laid out a plan to make college more affordable by bringing down costs of student loans. She proposed making the loans tax deductible and giving borrowers the ability to refinance.
"There's no reason for the hundreds of thousands of people of this state to have interest rate of 6, 7, 8, 9 percent, when the state can actually borrow at a much, much lower interest rate," Burke said.
U.S. Sen. Elizabeth Warren (D-Mass), a nationally known progressive leader, campaigned with Burke that day and backed up her plans to invest in education.
"From kindergarten to college,"  Warren said. "We believed that if we built a giant pipeline of ideas our kids would have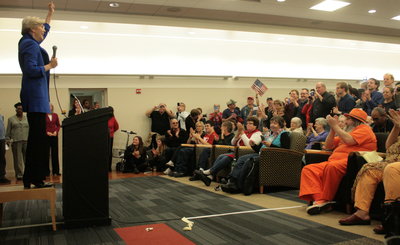 opportunities we could barely dream of."
Warren shared disappointment of Republican leadership and Walker's decisions for Wisconsin like cutting funding for K-12 education and  planned parenthoods around the state.
"The motto of the Republican party should be, 'I've got mine- the rest of you are on your own,'" Warren said.  "I'll tell you, that's very much what Scott Walker has pulled Wisconsin toward."
Burke also believes the Wisconsin needs more high paying jobs available for graduating college students, especially in their community.
"For Wisconsin to be vibrant and growing, we have to create opportunities so our young people can stay," Burke said.
Burke again stated that Wisconsin is tenth in job growth in the Midwest, a day after Gov. Walker said that claim was false during the gubernatorial debate.
The two spoke along with democratic U.S. Rep. Gwen Moore (WI-4), who promoted raising the minimum wage, and gave credit to the United State Supreme Court for delaying the Wisconsin voter identification laws.
"The Supreme Court has come to our rescue and one of the primary beneficiaries of that are going to be students, who this governor tried to disenfranchise," Moore said.
Burke said that the election will likely be determined by voter turnout.
"I know with your support, I will be the next governor of the great state of Wisconsin," Burke told the crowd.
The College Democrats at UWM was the group that brought the three politicians to campus. The group's president, Austin Kieler, agrees that voter turnout in college students will be crucial to this extremely close gubernatorial race.
"If we can get young people to vote and care, (the Democratic Party) would win every election in the future," Kieler said.