UWM students staying in Milwaukee this upcoming summer are able to participate in a vast variety of activities. These activities can range from watching movies at the Oriental Theater on Farwell or enjoying a cup of coffee at Colectivo. Milwaukee does not only have fun indoor activities because there are also many ways students can get outside this summer to soak up the summer sun.
Bublr bikes are a fun, unique way to explore Milwaukee. UWM students get free access to the bikes once they register online. These bikes can take students anywhere they wish to go. For example, a student can pick up a bike outside of Sandburg hall and bike to Bradford Beach to attend a volleyball tournament. If a student is at the Milwaukee Art Museum and wants to grab lunch, they can grab a Bublr bike and head to the Public Market in the Third Ward for a fresh fish sandwich. Students can bike to Urban Outfitters for shopping and then catch a movie at the Oriental Theater. The possibilities and destinations are endless with a Bublr bike. Plus, they less expensive than an Uber and they give students the opportunity to incorporate more exercise into their summer routine.
Students can also get some vitamin D by going to the Milwaukee Art Museum for a picnic. The Milwaukee Art Museum is just a bus ride on the Gold Line or Bublr bike ride away from campus. There are many spectacular locations for a picnic around the art museum. Packing a lunch and heading down to one of Milwaukee's most famous buildings is just one way to spend a summer afternoon. After lunch, students can take a more adventurous approach to their summer day by trekking over to Veterans and Mckinley Park.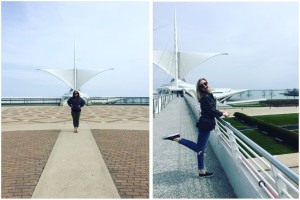 While in Veterans Park, students can embark on many amusing summer activities. They can unleash their inner child by renting a kite from Gift of Wings. Water-loving students can rent stand-up paddleboards, paddleboats and kayaks from Wheel Fun Rentals. If students have a little extra cash that they want to spend this summer, located in McKinley Park are businesses that offer sailing lessons, fishing charters, sight-seeing boat tours and Jet Ski rentals.
Living in Milwaukee during the summer can be an exhilarating experience. Alongside the outdoor beer and music festivals such as Summerfest, there are numerous outdoor activities that students can vamp up their Instagrams with, without breaking the bank.