In the fourth republican debate hosted by the Fox Business Network and the Wall Street Journal, main stage candidates gathered on the Milwaukee Theatre stage to hash out jobs, taxes, and economic welfare. Here are some notable moments, takeaways, and themes from the debate:
Hillary Clinton mentioned 25+ times
It's safe to say that the GOP candidates this election season are not fans of Hillary Clinton. Moderator Maria Bartiromo's final question, where she stated that Clinton's D.C.-centric resume is easily more impressive than any of the candidates on stage, elicited some boos from the audience and fierce responses from the candidates. "This election is actually a generational choice," Sen. Marco Rubio said, "A choice about what kind of nation we will be in the 21st century." Businesswoman Carly Fiorina made sure to mention Clinton in her closing statement. "Carly Fiorina can beat Hillary Clinton. Carly Fiorina will beat Hillary Clinton," Fiorina stated. But if this debate proved anything, it's that the GOP is anticipating Clinton will grab the Democratic nomination. There was a brief mention of Sen. Bernie Sanders, and no mention of Gov. Martin O'Malley.
Hundreds of protesters on Downtown Milwaukee streets
Several hundred Black Lives Matter, Fight for $15 and Voces de la Frontera Action protesters lined the streets around the Milwaukee Theatre and UWM Panther Arena last night. The family of Dontre Hamilton, a mentally ill man fatally shot by a Milwaukee police officer last year, was also present for the protests. The protesters took advantage of the media draw from the debate to get national attention for their causes.
Audience boos at Donald Trump twice
In response to Gov. John Kasich calling Trump's plan to build a wall along the Mexican border "silly", Businessman Donald Trump replied with: "I built an unbelievable company, worth billions and billions of dollars. I don't have to hear from this man." Signal boo number one. Later, when Fiorina attempted to speak during an argument, Trump butted in with, "Why does she keep talking over everybody?" Cue boo number two.
Maria Bartiromo pushes the candidates to lay out plans
After a huge backlash over the structure of the CNBC GOP debate, the three co-monitors of the major debate promised to keep the candidates in their place and ask less argumentative questions. Co-monitor Bartiromo made sure to ask candidates for their specific economic plans after candidates voiced responses not containing their platforms. Gerard Baker and Neil Cavuto were similar in making sure that the candidates clarified their responses to the questions in a more precise, yes-or-no way. The candidates voiced their appreciation for the moderators strategy after the debate. "I thought the moderators did great. They were elegant," Trump told the spin room media, "Much better than the last debate. That was a disaster."
Standing-O for Scott Walker
After dropping out of the presidential race a few weeks ago, Wisconsin Gov. Scott Walker received a standing ovation in the Milwaukee Theatre prior to the debate's start. New speaker of the house and Janesville, Wisconsin resident Paul Ryan was in the audience, along with Milwaukee mayor Tom Barrett, and Representative Gwen Moore.
Just ignore the commercial break
In an intense back-and-forth between moderator Gerard Baker and Sen. Rand Paul, Baker opted to feed Paul another question while the music signaling the commercial break began. The epic background music continued throughout the question until Fox Business Network let it go and allowed the debate to continue.
Carly Fiorina's diss on Trump's "green room" meeting with Vladimir Putin
Trump has been very vocal about promising that he'll work with Russian President Vladimir Putin, especially after the two were guests on CBS's "60 Minutes". Fiorina rebottled with saying she wouldn't speak to Putin from a "current position of weakness". "I have met him as well, not in a green room for a show, but in a private meeting," Fiorina said, which drew out some chuckles. (Fiorina did meet Putin in a green room setting, though, as she stated on "The Tonight Show" in September. Trump didn't physically meet Putin. The two were in different cities and met on-screen.)
Check out my website
Kasich, Sen. Ted Cruz and Sen. Marco Rubio each brought up their websites during their speaking time. Becoming slightly redundant and chuckle-worthy, Rubio, himself, laughed when introducing MarcoRubio.com. Trump made it a point to bring up that he's financing his own campaign. "I don't have to give you a web site because I'm self-funding my campaign. I'm putting up my own money," he said.
The word cloud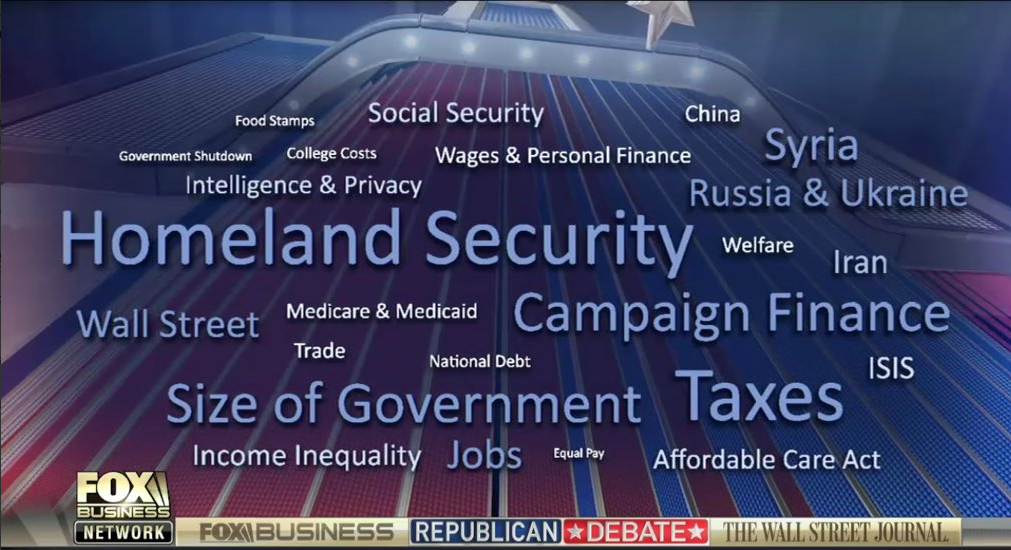 In a word cloud provided by Fox Business Network during the debate, homeland security and taxes were at the forefront of economic issues wanting to be addressed by the public, while college costs, food stamps, and equal pay were in a much smaller font.
"That's a great question. Let me begin by answering it."
Rubio wasn't afraid of cracking jokes last night – whether it be trying to reach out to millenials through the mention of gaming app Candy Crush, or suggesting that America needs more welders than philosophers. Brain-surgeon Ben Carson got a few chuckles after thanking the moderators for not asking about what he said in the 10th grade, following controversy over his memoir, "Gifted Hands".
The GOP certainly sees itself moving forward and claiming the White House in 2016, RNC Communications Director Sean Spicer told The UWM Post. "(The Debate) was awesome. It was actually a debate about issues, not the moderators," Spicer said, "That should set the tone going forward."
The fifth republican debate will be held in Las Vegas on Dec 15.