Photos by Srijan Sen.
Bill Nye "The Science Guy" spoke to a full house at UW-Milwaukee on Monday, February 10 as a part of the ongoing Geek Week campus celebration. He also took questions from students following the presentation.
Nye's visit was part of the Distinguished Guest Lecture series hosted by UWM and sponsored by  Union Programming, the Campus Activities Board, the Society of Women Engineers, SHAC, the School of Information Studies, the UWM Planetarium and the College of Letters and Science.
Nye discussed scientific research, renewable energy and the potential role of youth in progressive activism—a message that the student-filled audience seemed to enthusiastically support.
"Get rich and change the world!" said Nye several times.
Nye also talked about his recent controversial debate against well-known creationist Ken Hamm.
"It amazes me that some people still believe the earth is only 5000 years old," Nye said.
As an award winning scientist, Bill Nye is also an author, comedian and a mechanical engineer by training. He holds three honorary degrees, hosts three television shows and has won seven Emmy awards for the Science Guy Show (1993-98).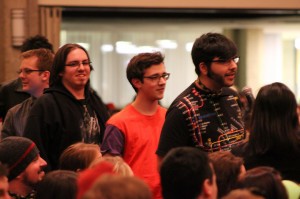 Nye graduated from Cornell University with a degree in mechanical engineering, where he studied under Carl Sagan.
Nye said his devotion to science ties back to family history. His mother, Jacquelinem was a World War II code breaker. Her work involved decoding Morse Code messages sent between enemy countries – a project called "cryptanalysis of the Enigma."
Edwin Darby "Ned" Nye, his father, was a World War II veteran, who became a sundial expert while without electricity in a Japanese prison camp.
While Nye mocked his father's obsession with sundials, he conceded his allurement to the science behind them. Upon taking Nye's suggestion, scientists at NASA decided to use sundial to enhance their understanding of the Martian atmosphere and figure out the color of its sky (which isn't blue). Nye's "MarsDial," which was designed by a space artist and three astronomers, was placed on the Spirit and Opportunity Mars rovers that landed on Mars in August 2012.
"The answers to those larger life questions can only be found by exploring outer space through scientific research," Nye said. "After all, outer space is closer to us than Green Bay."
Nye fervently promoted the use of alternative energy sources.  He advocated the use of solar panels to capitalize on the renewable solar energy.
"It's free," Nye said. "The sun doesn't charge us anything for the heat it provides."
He pointed out that the United States has more than enough wind energy, although engineers have yet to figure out how to transport it across the country from where it's produced.
"There is enough wind energy in North Dakota to run the U.S five times over," Nye said.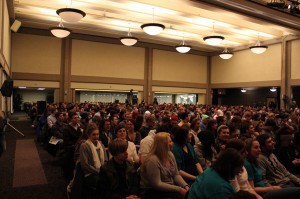 Bill Nye also mentioned climatologist Michael Mann and his book 'The Hockey Stick and the Climate Wars;' the forward of which was authored by Nye. The book's "hockey stick graph" presents the evidence indicating humans' role in causing global warming and other environmental issues, according to Nye; a personally committed environmentalist himself.
"I drive an electric car – The Nissan Leaf," Nye proudly said.
The problem with tapping into natural energy sources such as solar energy, and wind power is variability. Solar output varies throughout the day and through the seasons, and is affected by cloud cover. The International Energy Agency says that the significance of wind power and solar photovoltaic depends on a range of factors such as the market penetration of the renewables concerned, balance of plant and the wider connectivity of the system, as well as the demand side flexibility.
Nye repeatedly expressed his faith in the youth, asserting that the future of scientific advancement is in the hands of students.
"The problem I want you guys to solve is of electrical storage," Nye said.
Although his primary concern is with environmental science and outer space research, Bill Nye also touched upon pressing social issues such as population growth and its subsequent downfalls.
"The key to population control is to raise the standard of living for women and girls everywhere," Nye said while drawing a loud cheer from the women in the crowd.
The affable Bill Nye is a man on a mission to help foster a scientifically literate society. His vision is to de-mystify science while making it entertaining and accessible.
"Perhaps now we might be living in a world where science is cool," Nye said.