The Say Hello Project is the UWM Post's way of introducing students, faculty and visitors to the Panther community. This week we're featuring three student employees who work on campus. Let's say hello to Marissa, Jason and Lauren!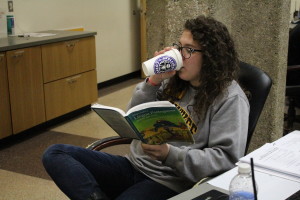 Marissa Paulson is a junior studying global communications and minoring in Portuguese, but she also works at the information desk in the Student Union. Paulson came to UWM from her small town, eager for the diversity of a big city. She loves spending time at the 8th Note Coffee House, where she might be singing and humming, even if she doesn't notice it. One of her favorite memory that has happned on campus in her time at UWM was when there was a bouncy house outside the Union for Africology Week; she also had fun taking a sledgehammer to an old van in Spaight's Plaza for a fraternity fundraiser.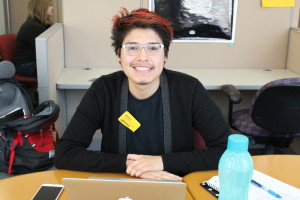 Jason Garcia is a third year Political Science and International Studies major who works as a Peer Mentor in the Student Success Center. He wanted to come to UWM because of the big city, while campus still gives off a small, comfortable feeling. Garcia also loves that UWM is close to a beach, unlike Racine, his hometown. He loves spending time in the library because of the different atmospheres and vibes of each floor. Garcia is also believes it's "great time to be (Star Wars) fan;" he saw the newest movie seven times in the first week of its opening. Garcia thinks that Sandburg Resident Halls might be haunted. He also has a friend who is a RA, who had a priest come in and do a blessing because of all the spooky activity that had been happening to her and her students on the floor.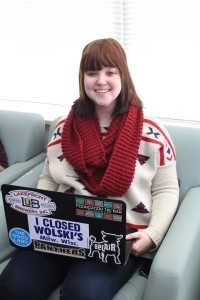 Lauren, a senior, decided to come to UWM after a campus tour because it felt like home. She also decided to come to UWM because of her interest in the Occupational Studies program.  As time went on for Lauren, she found that her favorite place on campus is the Commuter Student Lounge. She enjoys being surrounded by work family and says their laughter is contagious. Lauren's special talent is that she can tap dance, but also disclosed that she has an "unhealthy obsession" with collecting stuffed pandas. When she thought back to some of the more interesting moments she has had on campus, she told a story about a time in anatomy class when a fetal pig dissection bad was leaking. Instead of placing the dripping bag in the sink (occupied by students washing their hands) she ran out of the room and placed the bag in a nearby bubbler. To her surprise, the bag ripped at the fetal pig dropped onto the floor in front of a crowd of students.