Many Students pass by the Lubar School of Business every day. Some pass on their way to class and a few might ask the question, "How does a business school acquire such a peculiar name?" On May 6, that question will be answered by Sheldon Lubar himself during a celebration of his second $10 million donation to UWM for the new Entrepreneurship center. Lubar's first $10 million dollar donation was in 2006 to the UW-Milwaukee School of Business Administration, which was later renamed Lubar School of Business, in his honor.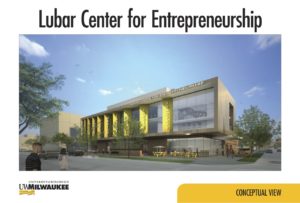 This event is hosted by three  student-business organizations: The Collegiate Entrepreneur Organization, AMA and AIGA. This two and a half hour event will include Sheldon Lubar speaking about his life experiences and how he found the path to success. Students will also have the opportunity to engage in UWM history by participating in an interactive question and answer session.
Sheldon Lubar is the founder of a Milwaukee-based investment firm that is active in corporate acquisitions and venture capital investment. Lubar was the assistant secretary of the U.S. Department of Housing and Urban Development, commissioner of the Federal Housing Administration, director of the Federal National Mortgage Association and commissioner of the White House Conference on Small Business, according to Board Member Biography. Lubar graduated from UW-Madison and holds a doctorate degree from UW-Milwaukee according to Lubar and Company.
Students that would like to be included in this special event can reserve their spot by going to the website www.lubar.uwm.edu/ceoevent. The event will be held from 1-2:30 p.m. on May 6 in the Zelazo Center, room 220.