Fall Welcome brought hypnotist Eric Mina to UWM for a special event in Sandburg's Flicks. Mina received a bachelor's in psychology from Penn State University and a certification as a hypnotherapist. Mina even got a shining review from CBS who called him "amazingly hysterical."
Fall Welcome brought hypnotist Eric Mina to UWM for a special event in Sandburg's Flicks. Mina received bachelor's in psychology from Penn State University and a certification as a hypnotherapist. Mina even got a shining review from CBS who called him "amazingly hysterical."
Students filed into the room with curiosity as a set of chairs faced the audience's seats. Mina introduced himself and, with humor only a college student could appreciate, set off to let volunteer's take the hot seats. In five minutes, volunteers were in a trance, some slumping as they fell asleep. Mina's allure didn't stop at his volunteer's as he put members of the audience asleep as well and later welcomed them to the stage as he picked out the best-tranced students. To test the depth of their trance, Mina asked for the volunteer's to picture him naked, and the responses were priceless.
Freshman participant Mikayla Welcing shook her head in part laughter and part shock as her roommate, Freshman Jessica Kalman recalled how Welcing's reaction to Mina's faked nakedness. Welcing was one of many who covered their eyes, not understanding that the fully-clothed man in front of the audience was naked to them. "Seeing him blue was awesome," Welcing commented after the event. Mina making himself blue to the volunteers was his first trick when the event began, and it made an obvious impression on the students, "He really was blue!" Welcing laughed.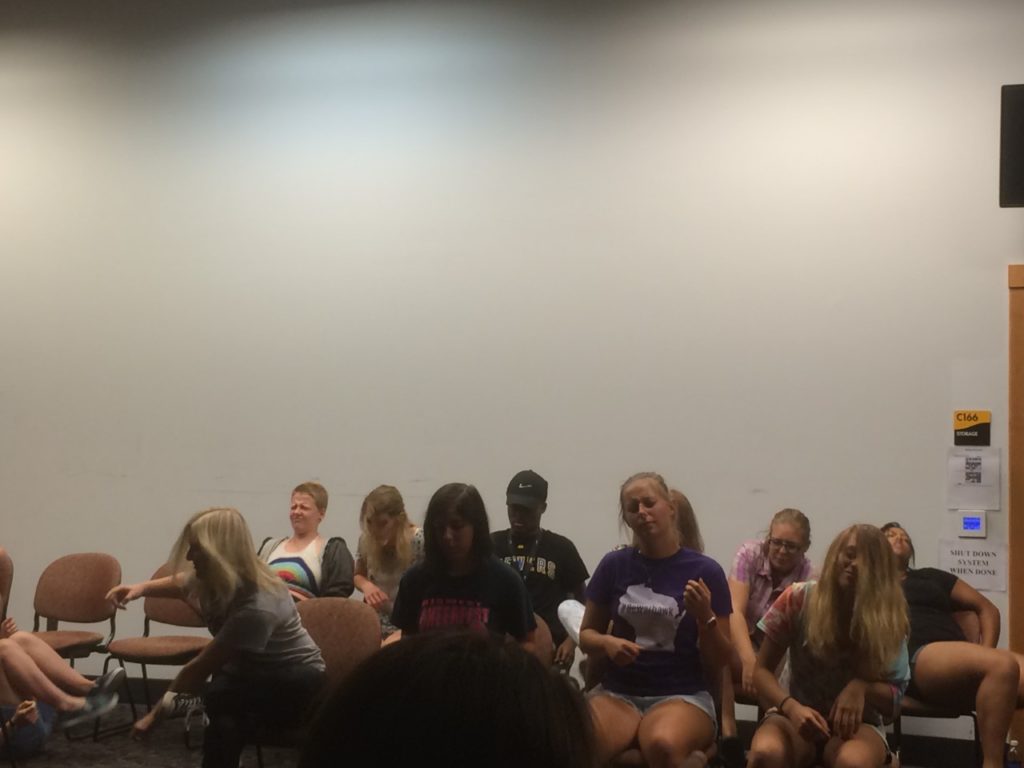 Freshman David Jameson was another participant in the event and was in awe at the experience. "[It] was very embarrassing afterward," he said, but that he "didn't [realize it] while [he] was up there." His friend, Freshman Jordyn Schreieer said that Mina's trick of being naked was her favorite, but that his other trick that made the participants feel an intense feeling when they shook hands made her squirm, "I just felt if I touched them, I'd be uncomfortable."
The participants were asked to do a wide range of activities, such as pretending to be part of an orchestra to being on Dancing with the Stars. There was even an activity in which volunteers believed they were animals; from kittens playing with yarn to dogs earning treats. "It was weird," Welcing said, "like, cool…but really weird."
A crowd favorite, who later apologized to Mina, cat-called him and commented on his figure which left the crowd bursting with laugher. Mina himself didn't seem to know how to take the attention but probed to see how far the trick would go. Both Mina and the audience was left in shock as she had invited Mina back to the dorms so that he'd have a place to stay.
At the end of the event, Mina let the audience in on a little secret: the volunteers had hypnotized themselves. "I am just the guide," Mina said, but he added that having control of our minds is a powerful thing. "The time before you fall asleep is the most important time," said Mina, because it allows us to "marinate with our thoughts." If the event left anyone with a lasting impression: it's all mind over matter.