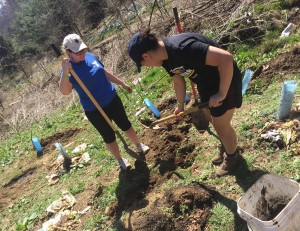 Spring break is over and students have gotten back into the groove of their daily schedules. While many students spent their spring breaks working, watching Netflix and catching up on homework, other students packed their bags to volunteer in Asheville, North Carolina.
The alternative spring break trip was organized by the Center of Community Based Learning, Leadership and Research. It lasted the entire spring break: starting on Mar. 12 and ending on Mar. 19.
"This trip was one of the grooviest experiences of my life," said Tiffany Montiel, a Political Science major. "I met some pretty cool people and the connections I made with other students was remarkable."
"It was a really great opportunity to work with other people," said Kerry Zynda, a Communication Sciences & Disorders major. "I met a lot of people that I don't know that I would have ever met before I went on this trip."
Montiel and Zynda were among the 29 students that went on the trip.
Other students were representatives of CCBLLR, who served as team leaders. Dakota Crowell, a student intern at CCBLLR,  said the trip had many benefits.  While students got the chance to meet new people and make connections, they also got to work with various community centers to make a difference.
"It's really great to just take a break and give back to the community," said Crowell,  "and learn how another community is solving issues versus how Milwaukee is solving theirs."
Although students who traveled to Asheville find local community work fulfilling, they found volunteering in another city — and seeing the faces of those they helped — memorable.
"One of the best moments was knowing people were appreciating our work," said Montiel. "We did not expect anything from locals but it was nice to receive 'thank yous' from them."
"They are always so appreciative of us coming here," said Crowell. "They were so surprised to see people of Milwaukee come to Asheville to help them out."
Montiel and Zynda appreciated their time at Asheville spent helping locals and learning about the benefits community volunteerism.
"If I had to choose one word to describe my experience in North Carolina, I would choose life-changing," said Montiel. "This service trip taught me so much about myself and about life in general."
"I want to give back to the community knowing what I learned from my experience in North Carolina," said Zynda. "I definitely would recommend (alternative spring break) to anyone… (to) step out of their comfort zone and try it."
Crowell, who has gone to this trip for three years now, has a knack for volunteering. Once he graduates he hopes to work with AmeriCorps.
"I'm really hoping, through (AmeriCorps), to give back to another city and explore a new part of the country," said Crowell.
Students who are interested in signing up for next year's alternative spring break or any other opportunities to help the community can visit the Center of Community Based Learning, Leadership and Research office in the ground floor of the union.