UWM Nutritional Science and Kinesiology students prevailed over UW-Madison, Concordia, and MSOE in first annual Mission Pizza Challenge to win $1,000 for the Riverwest Food Pantry.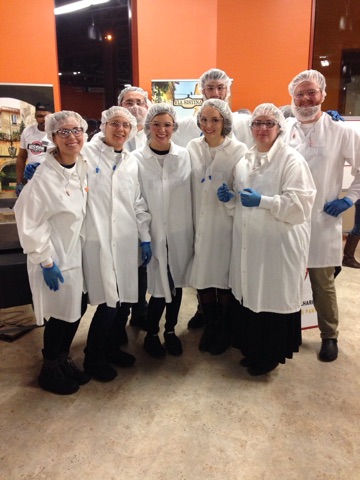 The Mission Pizza Challenge began with a two-minute ingredient round. The UWM team lead by Kelly Braun, President of the Nutritional Sciences Club, quickly decided on an Italian/Sicilian based flavor with Alfredo sauce and fresh basil. With just five seconds to spare in round one, Evan Corbin decided to scratch the black olives and add roasted red peppers. It was a decision that would later prove vital.
Each team then had 12 minutes to assemble three pizzas, one of which would be baked and presented to the judges. With two-minutes left, each team was thrown for a loop – add a mystery ingredient.
The mystery ingredients were brought in and each team had seconds to grab two ingredients. Ryan Blaney, in a brilliant move, acquired bacon and marinated goat cheese. The goat cheese was quickly added to the pizza just as the end of the round was signaled.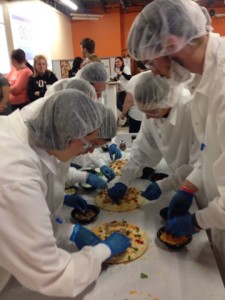 The final twelve-minute round – baking and presentation – would make or break the challenge. Raw or burnt pizza automatically disqualified a team and a thoughtful presentation was needed to seal the deal.
Each team hovered over their pizza ovens anxiously watching for the precise moment to pull their pizzas from the oven. A moment of panic arose for the UWM team when smoke began rolling out of their oven. Dripping cheese was the culprit; team quickly went back to brainstorming their presentation.
UWM was the last team to present their pizza to the judges. Julia Alba, Vice President of the Nutritional Sciences Club charmed the judges and received high marks in the customer service portion of scoring.
The room erupted in cheers as the UWM team was announced the winner. UWM scored high in all three judging categories: uniqueness, creativity, and customer service.
Besides the $1,000 for Riverwest Food Pantry, Palermo's also awarded each team member 12 pizzas from their new Mission Pizza Company line. The Mission Pizza Company is a new and unique concept from Palermo's. For every five Mission pizzas sold Palermo's will donate one pizza to the Hunger Taskforce.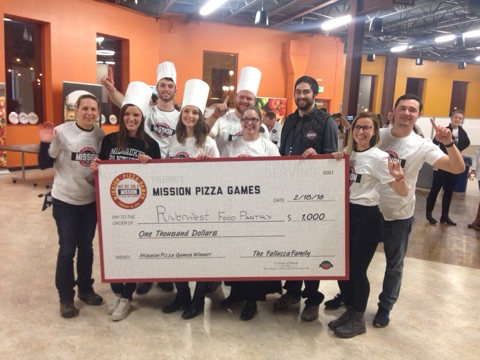 The UWM team consisted of Kelly Braun, Julia Alba, Crystal Sciarini, Evan Corbin, Ryan Blaney, Miranda Langford, Jeffery Sexton, and Celia Parra.
UW-Mission Pizza
1 pizza crust
1 Tbl. Extra Virgin Olive oil
½ cup Alfredo sauce
¾ cup Mozzarella cheese
¾ cup Cheddar cheese
1/8 cup Roasted red peppers
1/8 cup Onion
4-5 Fresh Basil leaves, chopped
¾ cup Italian Sausage
2 oz. Marinated Goat cheese crumbles (recipe below)
Directions: Pour olive oil onto crust and spread evenly over entire crust. Add sauce evenly leaving approximately ½" border around edge of crust. Add both cheeses evenly. Sprinkle the basil, peppers, onion, and sausage evenly over entire pizza. Gently pinch pieces off of the goat cheese balls to create crumbles and spread evenly over entire pizza.
Marinated Goat Cheese
1 Tbl. Extra Virgin Olive oil
2 oz. soft Goat cheese
½ Tsp. Italian Seasoning
Directions: In a small bowl or plastic bag combine the seasoning and olive oil. Roll the cheese into 5-7 balls and marinate in the mixture for at least 30 minutes, overnight is best.