Chants of "Education is a right" and "student power" filled the air at a rally in Spaights Plaza Wednesday afternoon.
The rally was put on by Students for a Democratic Society, a student organization on campus. The rally was intended to protest the UW System budget cuts announced last year by Governor Scott Walker.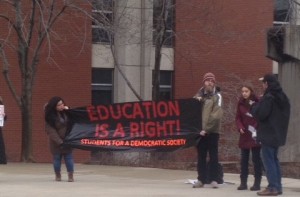 Sophomore, Marina Johnson led the protest, saying afterwards that she hopes that school administration "recognizes that we care about our future."
Following the protest, the group marched to the Zelazo Center, home of next week's Democratic Debate. Right before, UW-Milwaukee Chancellor Mark Mone was to speak at a budget event, junior, Brianna Eisner shared a speech addressing several topics including administrative positions being invested over student services.
Eisner also described how her classes are already feeling the effects of the cuts even though they have not gone into effect. The speech drew applause from those in attendance as she left.
In a meeting Wednesday evening, the group expressed interest in showing a presence at upcoming campus events, including the next budget meeting on Feb. 16.