It's starting to feel like spring again as students of UWM spent their Saturday morning helping those for this year's Global Youth Service Day for the Center of Community Based Learning, Leadership and Research.
Just like the Make a Difference Day in the fall, Global Youth Service Day allows students to aid their community by raking leaves, picking up garbage, cleaning flower beds and sweeping sidewalks. Over 300 students volunteered for the service.
"We had great students helping out and there was beautiful weather outside," said Nicole Glaser, Director of CCBLLR.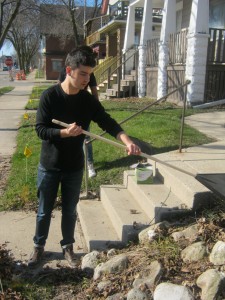 Students were paired with their own individual groups or representing their respective student organization. Among the student organizations were the Student Association and UWM's American Marketing Association Chapter.
"We had numerous student orgs," said Glaser, "but we also had groups of students who were friends who just wanted to volunteer together."
Students who volunteered, whether as groups , organizations or individuals helped over 80 elderly homes in the Milwaukee area and got to enjoy the nice weather in Milwaukee.
"It's always a great time helping the community and helping out people who need help with their lawns," said Mitchell Rowan, Marketing major and member of the American Marketing Association.
"It was finally a nice day in Wisconsin," said Emily Kuester, vice president of academic affairs for the Student Association. "It was a good way to spend my day."
Student Lauren Wiener she enjoyed meeting a UWM alum.
"It was cool to hear her stories and that she was truly grateful to have us there," said Wiener.
The services also gave students time to not only help those in need, but to have fun together and reflect. While they may have struggles with school, bills and housing, there are literally people out here who struggle to even walk out of their own house.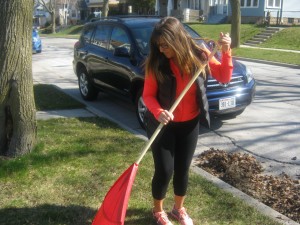 "It's a good thing that we are doing this," said Kuester. "We're all coming out and taking time out of our days and helping people who really need it."