The University of  Milwaukee's Screen and Search committee has begun its pursuit of replacing Chancellor Lovell, who will be leaving UWM at the close of this semester to become the newest president of Marquette University.
The UW System and its President Ray Cross began the meeting on May 8 to discuss expectations of the committee and establish a timeline. The goal for the committee is to find five or more contenders for the chancellor position by mid November 2014 and have the chancellor named mid December. The replacement of Lovell can expect a salary ranging from $300,000-$450,000 which includes housing and transportation benefits.
The Screen and Search committee consists of 14 faculty, two academic staff, two classified staff and two student representatives all from UW-Milwaukee. The committee is chaired by distinguished professor of geography, Mike Schwartz.
This is UWM's third search for a chancellor in a single decade. Professor Schwartz was on the committee that found Chancellor Santiago in 2004 and chaired the search for Chancellor Lovell in 2010.
"This seems like it was yesterday we were starting the process in 2010," Schwartz said.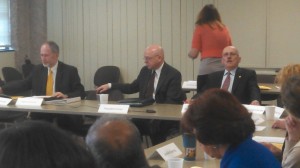 Another unique challenge faces the UW System as it assists UW-Milwaukee in its search.
Currently, the UW System is working to fill four chancellor positions aside from the seat in Milwaukee.
"It leads to a lot of speculations," said Regent President Michael Falbo. "It leads to the idea that people are fleeing the UW System, but that is not the case."
UW-Stout, UW-Green Bay and UW-Oshkosh chancellors all announced retirement this year and will end their tenure this summer. UW Colleges and UW-Extension is seeking to replace their previous chancellor as well, Ray Cross, after he was promoted to UW Systems president earlier this year. The ongoing UW quests for chancellors are to have no effect on UWM's search.
"We are in a different perimeter, so I don't see any other chancellor searches being a competitor to us because UW-Milwaukee is unique in the system," Schwartz said.
"The position at UW-Milwaukee is the most difficult and involved chancellorship in the system," said Falbo.  "There's such a wide range of goals. It will be extremely hard to find someone who can fulfill all of them, but we will do it."