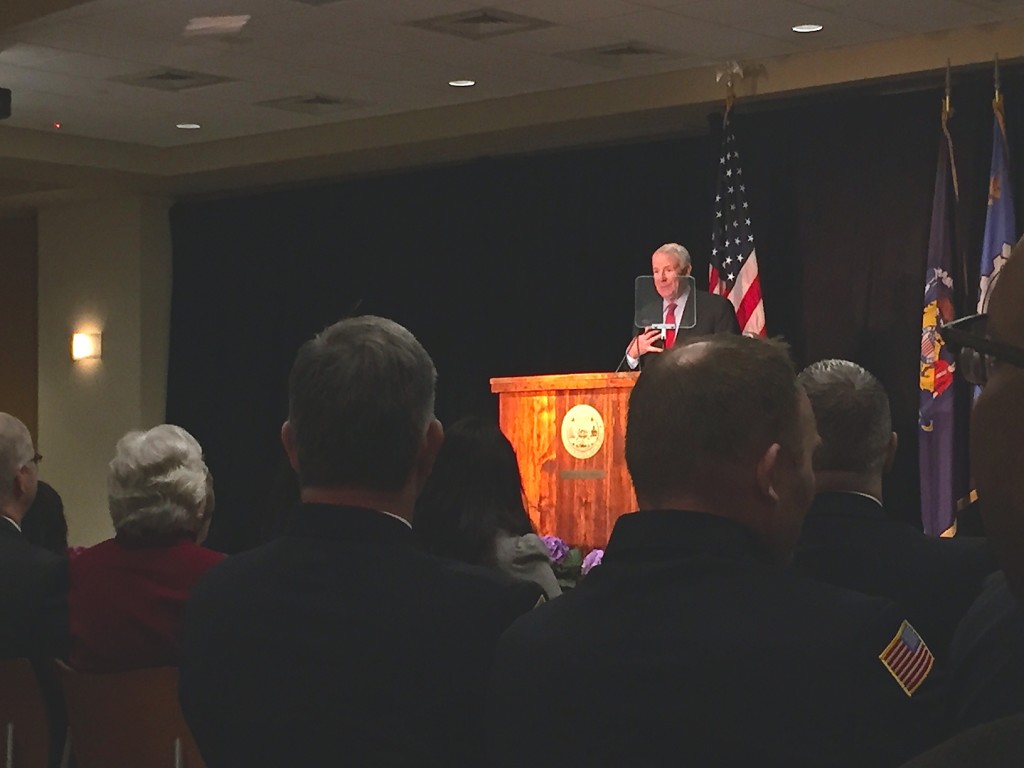 As Mayor Tom Barrett sees it, Milwaukee is on a roll. The mayor gave the 2015 State of the City Address at Alverno College early Monday morning, and the word of day was momentum.
Barrett expressed his resounding support for Gov. Scott Walker's jock tax to fund a new arena for the Milwaukee Bucks as well as his disagreement with the governor's cuts to both UW-Milwaukee and MPS's budgets. He recognized the streetcar as a touchy subject, but didn't hesitate to show his approval for what he feels would be nothing short of a shock to Milwaukee economy and tourism industry.
INTRODUCTIONS: MILWAUKEE RESIDENT, MEET MILWAUKEE MAYOR
Alverno College President Dr. Mary Meehan kicked off the address and introduced Kadijiha Jones. The Alverno College junior and MPS graduate said she was grateful to Barrett for his work, especially the Earn and Learn Program, an initiative which connects young Milwaukee residents their first jobs. Since the program's inception in 2005, it has offered employment to more than 22,000 teens.
Jones opened the microphone to Barrett, who began his address by praising Milwaukee and its residents. Barrett cited his city's values: hard work, honesty, equal opportunity, and admiration for Milwaukee's inherent beauty. However, he didn't forget to mention early on its struggles with crime, housing, education, and public health. Regardless of Milwaukee's troubles, Barrett still seemed to have high hopes for the city.
"Milwaukee is strong, and this is a year to build on our strengths," said the mayor.
2015: YEAR OF THE SOCIAL INITIATIVE:
A troupe of young men and women in light blue tee shirts sat near the front of the crowd. Barrett recognized them as police ambassadors. They've participated in an arm of Compete Milwaukee's programming that pairs them with police officers and prepares them for transitional jobs.
The mayor hopes to see programs like this better train Milwaukee's work force and supply employers with thoroughly trained employees.
Barrett highlighted his Compete Milwaukee program as a solution to increase quality of life and job preparedness. He projects that this year there will be 135 additional transitional jobs as a result of the program.
"Make no mistake about it, Milwaukeeans want to work," said Barrett.
The Mayor's Manufacturing Partnership is taking steps to better train those interested in working in trades. This past Nov., Milwaukee gear offered a number of the program's graduates entry-level jobs at rates of $15 per hour.
THE BIG ISSUES:
Despite extensive media coverage of Walker's proposed jock tax, the subject occupied only a minute portion of Barrett's time behind the podium. He supports it, as he finds a new Bucks arena bring jobs and economic prosperity to the city. If the jock tax is approved, the arena would funded entirely by taxes accrued from the professional athletes rather than Milwaukee taxpayers
As far as the proposed cuts to UW-Milwaukee and MPS schools, Barrett is less than supportive.
"Let's not regress," said the mayor. He emphasized that Milwaukee's workforce is rife with UW-Milwaukee graduates. More than 70 percent of the university's alumni stay in Wisconsin after graduation.
THE STREET CAR, MASS TRANSIT AND INFRASTRUCTURE:
Mayor Barrett also spoke on the recently approved streetcar project for downtown Milwaukee. The mayor acknowledged openly the controversy behind the plan, but was steadfast in its support. "Throughout the debate, my position has remained the same- I want to build on the momentum we've had and continue to create jobs and spur economic development. A healthy downtown benefits the entire city," said Barrett. He also thanked the common council and local business leaders for their support in passing the streetcar.
The streetcar project however was just one topic among a segment of the speech aimed at mass transit in Milwaukee as a whole, what he's calling a "comprehensive mass transportation plan" which will bring into account cars, busses, bikes and pedestrians. "Good mass transit brings visitors from near and far," he said.
The mayor commented that since he's taken office the city has made "significant improvements" on its policy to restoring streets, changing the average time of the street-replacement cycle from 108 years down to 62. He also noted that "pothole season" was up and coming, and that the city will be allocating double the resources this season in restoring affected streets. By the end of this process the mayor hopes to have restored over 21 miles of Milwaukee streets.
The mayor expressed sentiment on strengthening Milwaukee as a bicycle-friendly community stating he has plans to add 10 more miles of bike lanes in 2015 as well as 30 more Bublr bike stations.
Plans were also announced to spend the next six years replacing over 101 miles of water mains.
The city's public workers, specifically the Milwaukee Fire Department, were honored by the mayor for their rescue of four WE Energies workers who were stranded 400 feet in the air. "Too often, their work is unacknowledged, or worse, wrongly disparaged. I am grateful for city workers' and their contributions that make Milwaukee a better city," said Barrett.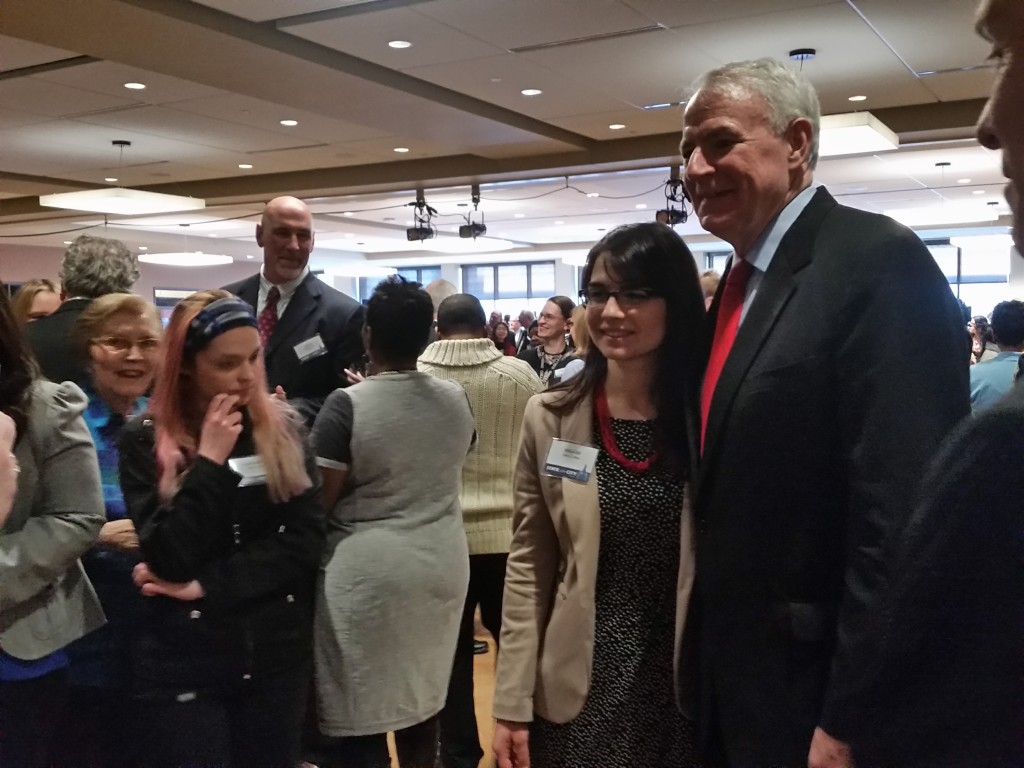 URBAN DEVELOPMENT AND HOUSING:
The mayor devoted a significant amount of time talking about urban development, housing and improving neighborhoods across Milwaukee. He iterated this point by referencing $20 million that had been spent in 2014 to build "stronger and safer neighborhoods."
He also referenced the foreclosure crisis. The mayor claimed that the city had initially set their goals at selling 350 foreclosed homes and 100 vacant lots, but ended up selling 437 foreclosed homes and over 225 vacant lots. "We want to continue to turn neighborhood eyesores into neighborhood assets," said Barrett, adding that Milwaukee is among national leaders in transforming vacant city spaces.
Barrett also said he would continue to try to fight against nuisance properties which he called some of "the biggest problems facing our city's neighborhoods."
The mayor also dedicated a small portion of his speech on housing and development to speak on implementing more urban-agriculture program alliances with groups such as Growing Power and David Frank Landscaping.
The mayor did not directly take on any of the growing racial tension in Milwaukee spurred by the shooting of Dontre Hamilton. However, he did tell a short anecdote of how the city transformed a vacant lot into an environmentally sustainable park named after African-American civil rights activist and Milwaukeean, Ezekiel Gillespie.
EDUCATION:
With the addition of the East Branch Library on the corner of Cramer and North, the mayor also announced that he plans to renovate the entire neighborhood library system by 2020, as well as implement an early literacy program geared towards teaching kids under the age of five to read. "There is an overwhelming amount of research that shows the most critical time to build brain connections is in the first three years of a child's life," said Barrett. The new express library at Westlawn Gardens was also praised.
The mayor commended the Bright Ideas program, which was implemented in 2005, stating that 142 high school seniors had gone through the program with a 91 percent graduation rate.
The Governor's proposed budget cuts and there impacts on Milwaukee Public Schools and the University of Wisconsin System were also brought up. The mayor expressed that moving forward with K-12 education will be more difficult if the cuts move forward.
CRIME AND GUN VIOLENCE:
The mayor transitioned his urban development achievements into highlighting measures he was taking to reduce crime and gun violence across the city.
Barrett claimed that developments in vacant lots and buildings along west North Avenue and in Milwaukee's South Side had brought crime down in these areas.
He spoke on a number partnership that community organizations and businesses were making with the Milwaukee Police Department to reduce crime.
Continuing speaking on violence in Milwaukee neighborhoods, Mayor Barrett spoke passionately about regulating gun control. "Guns in the hands of criminals produce far too much devastation in some of our neighborhoods," he said, adding, "I will never accept the silent premise that gun violence in Milwaukee is inevitable."
While citing that although homicides were down 14 percent in 2014, the mayor stated non-fatal shootings were up by 10 percent, and MPD officers had seized over 2000 guns. The mayor expressed that the majority of these guns were bought legally only months before they were used in crimes. He then took a direct stab at Scott Walker and the NRA saying, "Governor Walker and state legislators must give the same attention to the lives of victims as they do to the NRA."
Barrett also explained that the MPD would also continue to take steps in educating officers on crisis intervention training and critical incident training, put in place to help officers understand how to deal with individuals in crisis. The implementation of these programs also seemed to allude to the Dontre Hamilton shooting.
MILWAUKEE FAMILIES:
Another topic for the mayor was strengthening the health and family mechanics of Milwaukee residents. "Having a great city means that all residents, regardless of where they live or what their income is, can be healthy throughout their lives," said Barrett.
He opened up this segment of his speech by talking on the infant mortality rates of Milwaukee and announced a new initiative the city is calling the "Strong Baby Sanctuary Initiative." The initiative will be the result of a partnership with the United Way and Columbia St. Mary's. The program seeks to provide secure health options for expecting mothers, fathers and new families.
Embracing fatherhood was another family centered issue the mayor stressed celebrating, saying, "Our work on infant mortality also includes investing resources in helping men become better fathers." His speech marked 10 years since the start of the Milwaukee Fatherhood Initiative.
The mayor also vocalized support for Alderwoman Milele Coggs for championing an initiative to deal with childhood trauma, specifically that of children exposed to firsthand violence.