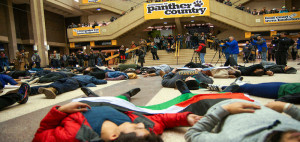 Photo courtesy of Overpass Light Brigade
The UW-Milwaukee Union Concourse was eerily silent as dozens of  bodies laid "dead" on the ground last week Tuesday. The silence broke slowly as each person rose, chanting "we are Mike Brown."
The demonstration by community members and students came a day after a grand jury decided not to indict Darren Wilson, the Missouri police officer who shot and killed unarmed black teenager Michael Brown in August.
Members from the American Civil Liberties Union at UWM organized a rally starting with a "Die-In." Hundreds of students noticed the display, stopping on their way to or from class to watch what would happen next.
"We wanted to do something dramatic that would catch a lot of attention," organizer and student Carmen Quinlivan said. "But we didn't want to do anything that would be hyper aggressive because we're on the UWM campus."
Once the protesters were up from the ground they repeated the words of one of the leaders:
"We are here because justice was not served.
The officer Darren Wilson got away with murder.
Michael Brown was unarmed.
Michael Brown was shot 12 times.
Michael Brown was murdered in cold blood.
Officer Darren Wilson did not get indicted.
The people of Ferguson have the right to rebel.
They have the right to demand justice.
Rebellion in Ferguson is justified.
Your brother could be next.
Your uncle could be net.
Your father could be next.
I could be next.
No Justice, no peace."
Students one-by-one took to the middle of the crowd to share their thoughts on the Michael Brown case.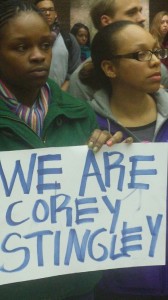 "If it was a white guy with a black police officer he would've been like 'at least get on the ground with the gun,'" said organizer and student Solana Patterson-Ramos.
Many protesters used the opportunity to talk about racial profiling in America.
"I am a black male, and I should not be a target," student Lavelle Young said. "I am an equal rights citizen here in Wisconsin and Milwaukee."
The attendees also held signs in support of Milwaukee residents Corey Stingley, Derek Williams, and Dontre Hamilton. The three African- American males died during separate incidents that some believe would not have happened to males of a different race.
Milwaukee Co. Supervisor David Bowen spoke at the rally. He hopes to start a healthy conversation on racial problems.
"The more we try to put this under the rug, the more the elephant in the room continues to grow," Bowen said.
A bystander in the Union tried to disrupt the speakers, he said that they need to "stop making everything about race."
"It is a racial issue, it is absolutely about race," student Austin Kieler replied.
Quinlivan and the rest of ACLU at UWM want to see a change in race relations across the country.
"We can see Milwaukee is Ferguson," Quinlivan said. "Ferguson deserves a revolution, and Milwaukee deserves a revolution. We are not going to stop until people are not being murdered in our city."