Participants in The First Year Program in Art and Design at UWM's Peck School of the Arts showcased their talent in the Union Art Gallery's annual First Year Exhibition on Friday. The First Year Program aims to aid in student's creativity and exploration of their intended areas of study in the arts, all while improving students' artistic talents. The students displayed their artistic evolution in the gallery and celebrated their many works created throughout the year.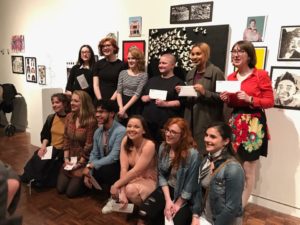 The First Year Exhibition brought in a packed crowd in the Union Art Gallery, with many family and friends eager to see the impressive talents of the students. The Exhibition showcased art pieces of varying techniques and styles, including wire sculpture, charcoal, digital photoshop, ink work, and illustration.

Scholarship Recipient Ally Emrich, a freshman at UWM, commented on the exhibition, "I've always been a part of art shows in high school, but no one ever really cared about them as much as me and my art teachers did in our community. So being a part of the first year exhibition was really exciting and fun for me because I was surrounded by friends, family, and faculty that all cared deeply about what we were doing. All in all, it was a wonderful experience and really made me feel like I belonged at PSOA."

The program concluded with an awards ceremony in which scholarships were given to many students in the Exhibition, including two scholarships sponsored by Blick Art Materials.