This week is UWM's Green week and part of its main events was a tour of UWM's greenhouse, which features both native and exotic plants from all over the world.
The UWM Greenhouse, located on the fourth floor of the Northwest-Quad, features 672 different plant species, which showcases a range of plant biodiversity and adaptation, according to the UWM BioScience department.
The event was put on by the UWM's Conservation Club to bring out nature enthusiasts. Kristen Kelnhofer, Conservation Club's Vice President said the goal of the club is to "bring environmental issues to the community," and to bring out students who are "passionate about the environment."
The event can be counted as a success as the Conservation Club watched students rush in for the beginning hours. Conservation member Rico Munucci who is a freshman at UWM said the Conservation Club is a big part of the UWM campus because it is helping to keep the campus self-sustaining, which has a huge impact on the community.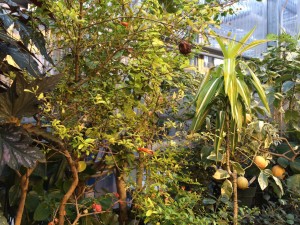 The event pulled students in from every major and year, as two JAMS students came to interview Conservation Club members for a project. Journalism major Cailynn Hensen said she and friend, Lizzy Sitkin came to the event for a project, but found the event itself interesting."It is really cool for people to see," Sitkin said, referring to the rooms filled with plants and small trees. Both agreed the opportunity to participate was fun.
Throughout the rooms filled with exotic plants, there was specified conditions for the different plants. The rooms consisted of jungle plants, natives, cacti and mosses, and flowering plants that also featured lemons trees and pomegranate plants. While each room held a different plant, each member had a favorite piece. Minucci said his favorite was the jungle room while Kelnhofer said her favorite was a plant called the Epaulette plant,which is a plant that grows naturally in the rainforest, because of how it grows on other plants rather than in the soil.