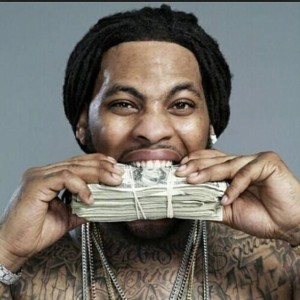 Rap artist Waka Flocka Flame will perform on campus this Saturday, leading some students to question the seemingly conflicting messages the university sends about drug use. The event is hosted by the Campus Activity Board, a Student Association committee that brings entertainment to UW-Milwaukee.
CAB Committee Chair Brandon Methu was quick to contest such allegations, insisting the event will provide an incentive for students to resist partaking in any illegal activities that day rather than participating in them.
"I know what goes on, on 4/20," Methu said. "We saw this concert as a way to get people on campus and out of those activities associated with 4/20."
The university's drug-free policy is reinforced by all promotional material of the event distributed by CAB. Yet, hosting a rap artist who flaunts lyrics such as "I got some marijuana" and "keep me smoking" in his feature hit "In Da Paint" (also promoted on materials published by CAB) appears contradictory to this message.
Additionally, the decision to host the artist on April 20, a date highly associated with the celebration of illegal drug use, has further undermined the committee's support of a "drug-free" atmosphere.
Students are catching on to the irony of the event.
Lol @ UWM for preaching about how 'drug-free' we should be yet hosting a performance by Waka Flocka on 4/20. Keep up the good work!

— KATIE (@K_Schreib) April 16, 2013
(Junior Katie Schreiber)
Waka Flocka is coming to @uwm on 4/20 for free. Well played UWM well played.

— John Mariani (@john_mariani) April 12, 2013
(Senior John Mariani)
Weeks ago UW cancelled a block party out of concern for their appearance. Meanwhile, UWM pays Waka Flocka to "perform" in their gym.

— Kimberly Heinzmann (@KAHeinzmann) April 17, 2013

(Senior Kimberly Heinzmann)
The CAB committee had a number of factors to consider besides the date when planning the event, Methu said. He emphasized that it was never about providing an event that would add to the 4/20 hype.
One of the difficulties was securing a reliable artist. Many are known for abruptly canceling shows hosted by universities and Methu said he was very concerned with avoiding that. Other artists either had scheduling conflicts or refused to play on a date they referred to as a "holiday."
"We were willing to pay one artist $70,000 for a performance on 4/20," Methu said. "The artist refused, saying he would only play the following day once the 'holiday' had passed. That wasn't the message we wanted to promote – 4/20 as a holiday."
Venue space was another issue discussed by the committee.
"We only have one venue space on campus, and not an ideal one for the number of students we're trying to accommodate," Methu said.
He explained larger venues like the Marcus Amphitheatre are out of reach due to high costs and bookings required far in advance. The campus-sponsored event turns a lot of artists off because of the limited number of people that can attend. Artists also cannot sell their merchandise for extra revenue in a venue like the Klotsche Center.
"Waka Flocka wasn't our first choice, but he was one willing to play in a market where others weren't," Methu said.
CAB shelled out between $25,000 – $30,000 for the event. The discrepancy comes from uncertain production costs, according to Methu.
This money comes from student segregated fees, the fees that are tacked on to tuition every semester.
Waka Flocka is playing at UWM? What a damn waste of money! No public school should be paying someone to have a concert…

— Joel Lazzaroni (@JoelLazzaroni) April 18, 2013
Deciding on the event's date also required much deliberation. Methu said the committee was limited to the month of April following the wrap-up of winter sports that either practiced or played in the gym.
"It came down to this date, or one other date earlier in the month that we believed to be too close to our previous event that hosted comedian Aziz Asari," Methu said. "4/20 just worked."
CAB estimates 1700-1800 students will attend the concert.
Students will only be allowed into the concert after passing through a metal detector. Any bags or purses will be emptied into a box where the contents will be sifted through. CAB members, university staff and UWM police officers will be present to enforce such policies.
Methu said the CAB committee has been in contact with UWMPD and the Milwaukee Police Department several times to discuss potential issues. But UWMPD is not expecting trouble.
"We have security assigned to that area for the night," said UWMPD Lieutenant Adrian Bump. "But we're not doing anything differently than we do for any large campus event."
Officers present will be determined on crowd size, he said.
Doors open at 6 p.m. and the concert begins at 7 p.m.