The Progressive Students of Milwaukee held a rally in Spaights Plaza today in protest of the recently approved Right to Work Law.
The rally featured speeches from many students, teamsters and union organizers within the Milwaukee area and UWM campus.  The students then marched through campus carrying signs and banners.
Many members from Milwaukee's local unions were present at the rally and made speeches.
Dan Ginsberg, a member of Teamsters Local 344 and UWM alumni, made the first speech in which he said, "We need to be everything we can do denounce this reactionary anti-worker legislation."  He also referred to Chapman Hall, where the chancellor's office is held, as a "castle" and that UWM administrators are "scared" of student workers.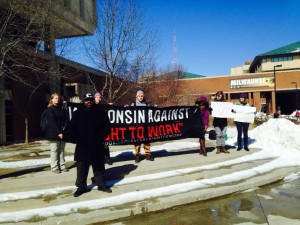 Next to speak was Tanya Schilling, a mechanical engineering undergraduate and teamster member.  Schilling expressed sentiments that those she worked alongside her were her "family" and that by passing this legislation republicans at the capitol were effectively "tearing her family apart."
Gilbert Johnson, vice president of AFSCME Local 82, also spoke.  AFSCME (American Federation of State, County and Municipal Employees) Local 82 represents over 700 employees of UW-Milwaukee, UW-Waukesha and UW-Washington County.
Johnson opened his speech on the steps of Spaights with "I haven't stood on these stairs for a long time."  He expressed concern that the people he represents were "at the bottom of the barrel" when it came to wages.  "[UW System Administrators] are making seven-figures but the people they want to pick on are the people that make the less income and students who have less power," said Johnson, adding, "You can kill us, but you won't be taking us down."
Last to speak was Spencer, a junior studying education, who said "It's almost as if I've convinced myself that I have to move myself out of the state to get a good education job."
The group of 15 to 20 people then marched underneath Golda Meir Library towards the intersection of Hartford and Maryland, past Lubar and back into Spaights Plaza.
Will Guenthner, spokesperson for the Progressive Students of Milwaukee, hopes that eventually they will be able to organize a mass student walkout in defiance of the Right to Work legislation and UW System budget cuts.