For the past month the Student Association has held a campaign to get people to vote on a referendum for more segregated fees to renovate the Student Union.
If you've been walking around the Union in the past month, you may have noticed graphics band aids on different parts of the interior. The band aids come with a little description on problems with that area and how much it costs to fix. It's like a museum of damage and repair costs.
This goes back to a webpage the Student Association set up called 'Your Union', which lists the bandaids and their significance. The webpage states that voting 'yes' to the referendum means you would agree to pay $124 dollars extra in segregated fees. If you vote no, you will only pay the regular $75 dollars in segregated fees a year. Keep in mind that segregated fees are used to cover a lot of other things than just rebuilding the Union.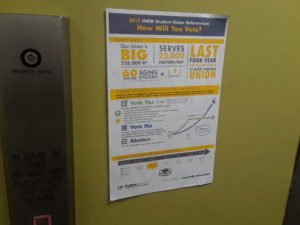 We already pay a set amount of segregated fees that go to services like the Union, B.O.S.S. and the Norris health center. If everyone chooses to vote yes, it would add more money to that pool, but there would be no real guarantee on how much of that money is used to renovate the Union.
I think the referendum is just the university reaching into our pockets again for more money. The Union may cost a lot to maintain, but I doubt it's bad enough to need to be immediately rebuilt. Even if the referendum passed this year, the rebuilding process wouldn't start until 2019. Some of you reading will graduate by then, and by that time it won't effect you.
The referendum is important for commuter students, since they are usually the ones who spend time in the Union between classes. Where will these students go if the Union is shut down for renovation? The Student Association should try and answer this question first, before asking us to spend more money.
Here's the best part. If you want to choose classes for next semester, you have to vote on the referendum beforehand. You can also choose to abstain. Making the referendum mandatory shows how eager the university is to shove this choice in your face. It makes me wonder, will they try the same thing next year? Would the referendum come back if it didn't pass this year?
There is a lot of gravity around this referendum and there is also a lot of persistence around it. When you go through your PAWs account to choose your classes, take a second to think about your decision. Especially if you take the bus to school.