Note: this is an opinion piece and no way reflects the views of the UWM Post
So Marquette Basketball, the cross-town rival of UWM, doesn't have a basketball coach. Buzz Williams left for Virginia Tech. Most Marquette fans liked it, because to them, Williams was an "awful" coach who led them to NCAA tournaments every year except this past one. Sounds like those Packer fans who call for the heads of Mike McCarthy and Ted Thompson despite five straight playoff appearances.
Is anything good enough for our cross-town rivals? (Pretty sure the only thing we beat them in is drinking and soccer.) They have all the facilities we don't, they make tournament appearances like it's a shopping trip and they have the budget for athletics that our department would sell their souls for.
On Monday, things got embarrassing with Marquette. WISN 12 reported that Virginia Commonwealth University Head Coach Shaka Smart had agreed to become MU's new head coach. Then some half-rate blogger at MU decided to corroborate that. Within hours, other Milwaukee media hopped on and shut it down, saying there was no deal in place.
No national media picked up on this, probably because they saw the reports, made one call to a higher source and then scoffed at the bogusness of the story.
Then Deadspin published this tonight, pretty much allowing the nation and college basketball fans all over to laugh at our city.
Today all those Marquette fans ran around like chickens with their heads cut off. Tod Kowalczyk, Brian Wardle, Ben Howland, and now Shaka Smart have been linked to the job. Rumors of whoever takes over the top job at MU have been flying around and everyone is grasping at straws over who should be hired, and some people are just throwing names because they're an uneducated person sitting on Twitter.
Update: this whole story is because of one foolish MU journalism student, who caused the ruckus. So congrats Mike Cianciolo from the almighty MU journalism program, you abused your power and caused a riot and probably cost yourself a real opportunity of a job with local TV stations. But don't worry, your rich mommy and daddy will pay someone for you to get the job.
Good move, Mike.
@powderhokie should be official around 5

— Michael Cianciolo (@MikeCianciolo) March 24, 2014
Just look… and now the city of Milwaukee is a joke. UW-Milwaukee just made a tournament appearance and our head coach is staying here.
With all this talk about Shaka Smart and MU being connected, I will be very disappointed like a lot others if he doesn't get hired #alltalk

— Eric Miller (@MacMill34) March 25, 2014
Shaka Smart has accepted both the Marquette job and the Wake Forest job, while simultaneously agreeing to coach VCU

— Shaka Watch (@ShakaWatch) March 24, 2014
Milwaukee news really worked up a lot of fans, people are confused and it's humiliating us at Marquette. Thanks for nothing. #mubb

— Kevin Walsh (@WLSHY) March 25, 2014
Disregard the past couple of tweets…this is how every #mubb fan feels like right now. pic.twitter.com/0rjGmfC98R

— JP Seral (@jseral) March 25, 2014
My sources tell me that #mubb fans really want Shaka. And that source is twitter. And I also really want Shaka. Make it happen Marquette!

— Ryan Clancy (@ryanclancy11) March 25, 2014
"@MichaelHuntMJS: #mubb Shaka Smart deal not done from what I'm told." That's cuz nobody tells you anything. You don't work hard enough.

— Joe Pavletich (@MUDrJoe) March 25, 2014
Sources say that Shaka Smart is going to be the next head coach for #mubb and is headed to Milwaukee right now

— Michael Cianciolo (@MikeCianciolo) March 24, 2014
IF it took losing Buzz Williams to get Shaka Smart, I'd pay that price over n over again.

— Alexander Maykowski (@APMayko) March 25, 2014
PER TWITTER: Shaka Smart is both the new coach at Marquette and nowhere close to being the new coach at Marquette.

— Andy Glockner (@AndyGlockner) March 25, 2014
Shaka just texted me. He has agreed in principle to a deal to take over as the new greeter at the Luxor in Vegas. #mubb

— PantherU.com (@PantherU) March 24, 2014
Shaka Smart to coach Marquette basketball. Mike Holmgren to coach Marquette football. Pele to coach Marquette soccer. It's all happening.

— Tony Varga (@vargavpugh) March 24, 2014
I really dont get animosity toward Buzz. RT @CrackedSidewlks: Also, we'll never forget you, Brent. #mubb pic.twitter.com/DyV3nnw5UN

— PantherU.com (@PantherU) March 24, 2014
@mnd_rose No official word on what Shaka Smart is doing

— Michael Kohl (@WHOMikeKohl024) March 24, 2014
#VCU AD Ed McLaughlin says this a.m. that "Shaka Smart is our men's basketball coach" after erroneous reports about Marquette job on Mon.

— Tim Pearrell (@timpearrelltd) March 25, 2014
Hell, even Marquette players are having fun with it.
Shaka Smart WILL be a head coach at a college next year.

— Jake Thomas (@JakeThomasTwo3) March 24, 2014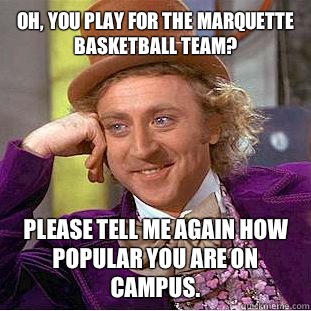 (on a personal note, I do agree with PantherU editor Jimmy Lemke that UW-Green Bay coach Brian Wardle should get the MU job.)
What is Marquette looking for (besides a girl to roofie at a party)?They won't get much better than Williams. Not to bash Rob Jeter and the amazing effort that team put in this year, but UWM would kill for five consecutive tournament appearances.
MU is paying the price of rising to the top; they no longer appreciate their spoils.
"Oh we have a budget so large, we win so much, and we play in a crap conference that can help us make the big dance annually. Nah this isn't good enough. WE WANT MORE."
Greed will be the downfall of that school, and it will be hilarious to watch it happen. Because then all those loyal MU fans will come crawling across State Street to the Cell and enjoy UWM basketball, where we make more with less.
That program is like the Jersey Shore: it's obnoxious to always hear about, a lot of people follow it because it's there, it's full of rich white boys in bro tanks who treat women like slabs of meat, especially when they think it's OK to rape a girl because the whole campus will attack her for standing up to her rapists.