After finishing with a regular season record of 33-49, the Bucks drew the #10 pick in Thursday's NBA Draft. Speculation ran amok over the past couple weeks as to who the Bucks would select. Predictions ranged anywhere from Vanderbilt guard Wade Baldwin IV (17th to Memphis) to hometown product Henry Ellenson out of Marquette (18th to Detroit.) However, they would select Thon Maker out of Sudan and Australia. Maker was described by some as one of the most interesting prospects in the draft due to his story and unique skill set for his size (7'1", 218 pounds.) The question is, is the selection of Maker a potential reach or potential steal? Also, how did the Bucks fare with their other picks on Thursday? Let's find out.
Round 1, Pick 10: Thon Maker, PF, Australia
Thon Maker's name has nothing on his story as far as intrigue is concerned. Originally born in South Sudan, he escaped the Sudanese Civil War at the age of 5. Thon, his aunt and younger brother were accepted as refugees in Australia. Maker would then play high school ball in the U.S at Carlisle School in Martinsville, Virginia. While there, he averaged 22.2 points, 13.1 rebounds, and 4.5 blocks per game during his freshman and sophomore seasons. He finished out the rest of his high school career playing at Canada's Athlete Institute. Maker was only able to enter the draft following a ruling by the NBA after he successfully showed that he graduated from high school in 2015, allowing him to declare under the NBA's "one year out" rule. This rule means that a player must be graduated from high school for at least one year in order to declare for the NBA Draft.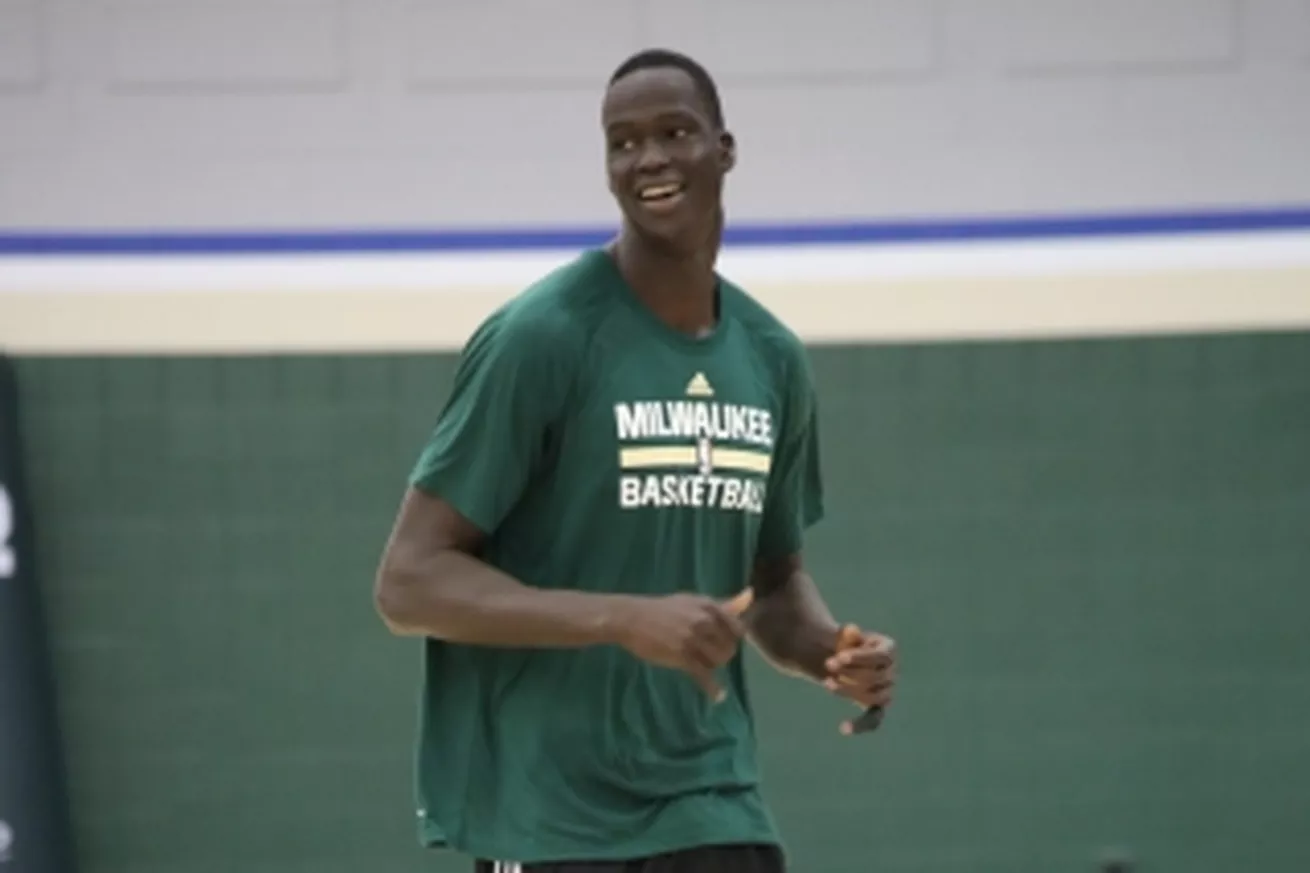 Now, what does Maker look like as a player? Let's take a look at his strengths and weaknesses.
Strengths
Athleticism- Maker's calling card is his athletic ability. On film, he showcases parts of his game that others his size simply do not show. He has great ball-handling for a player with his 7'1" frame (7'3" wingspan.) In addition, Maker shows the ability to be a solid up and down the court asset for the Bucks. His speed to keep up on fast breaks is important on a team as athletic as Milwaukee. Maker also has a jump shot that has shown to provide some solid NBA range.

Defense- Maker's height makes him an imposing threat as a rim protector, and his athleticism makes blocking shots even easier for him. He has a feel for when to go up for blocks and is quick to the ball to do so. While he does block the ball out of bounds more often than may be desired, that is a trait that can be learned with coaching.

Hustle- On film, Maker simply does not quit. This is most evident on offensive rebound opportunities, as he averaged 3.6 offensive boards per 40 minutes. Maker is an overall hard worker who loves the physical aspect of the game despite his seemingly fragile frame.
Weaknesses
Age- This isn't so much a weakness as a concern. However, it was by far the biggest concern regarding Maker going into the draft. His listed birth date is February 25

th

1997. This would put him at 19 years of age. Prior to the draft, rumors spread rapidly that a number of teams had dropped him out of their plans as they believed him to be anywhere from 21-23 years old. While that may not seem like a big deal, to many NBA teams, it is. After all, a prospect like Maker, even with his physical tools and abilities, is much less attractive at 21-23 years old than at 19.

Size- Maker's size is one of the main weaknesses, physically or in-game, that he possesses. While his 7'1" frame is impressive, he is only listed from anywhere between 216-225 pounds, depending on the source. This slight frame may have scared off some teams with questions about whether Maker's body would be able to hold up to the physicality of the NBA game. The hope for the Bucks is that Maker's future physical development models that of another certain high risk/high reward pick of the past, Giannis Antetokounmpo.

Competition level – Thon Maker never played college basketball in the United States, or anywhere for that matter. In fact, he is the first player taken out of high school since Amir Johnson in 2005. Teams nowadays are often wary of players who come from lower levels of competition, whether it be high school, overseas, or lower levels of Division I college basketball. If Maker can overcome this and adjust to the NBA game quickly and show that he is willing to work to do so, the Bucks may very well have one of the steals of the draft.
NBA Comparisons
NBA.com: LaMarcus Aldridge, San Antonio Spurs
Bleacher Report (from 2015): Kevin Garnett
Pick Grade
B+
While this is definitely a risk/reward pick, and while there may have been some more polished players on the board, the flashes of potential greatness that Maker shows on film made him extremely hard to pass up on for Milwaukee. The reaction to Maker both pre-draft by experts and post-draft by fans reminds me a lot of Giannis, and that turned out fairly well for the Bucks. The team can only hope for more of the same with Maker.
Round 2, Pick 36: Malcolm Brogdon, SG, Virginia
Size: 6'6", 223 pounds
2015-16 stats: 18.4 points, 4.2 rebounds, 2.8 assists, 0.9 steals per game
Accomplishments: Two-time All-American (2nd team 2015, 1st team 2016), 3x 1st team All-ACC, 2x ACC Defensive Player of the Year, 2016 Naismith Award Finalist
In many ways counteracting the risk associated with selecting Maker, the Bucks used their second round pick to take Brogdon, a senior out of Virginia. One of 15 seniors selected Thursday night, Brogdon comes to the Bucks with a lot of praise, both from experts and Tony Bennett, his former coach. He is praised for his leadership, proving to be an integral part of the last two Cavalier teams, including last season's Elite Eight team.
Strengths
As far as his game is concerned, Brogdon has shown to be a solid all-around player for Virginia. He would add another dimension to what Thon Maker called the "all-length team" with a 6'10" wingspan to go along with his 6'6" frame. His defense is arguably the strongest part of his game, as he was a key piece of one of the top defenses in the country over the past two years. Brogdon has also improved significantly on the offensive end. His 18.4 points per game in 2015-16 was a career high, as were his shooting percentages both inside and outside the arc (47.4% and 41.1% respectively.) Brogdon is a smart basketball player who plays solid, low-mistake ball. He is also in the process of pursuing a master's degree.
Weaknesses
His limited athleticism could halter him at the next level, but if he can get in situations where he comes off of off-ball screens, where he often thrived at Virginia, he can become a solid role player. His age (23) may also lead to questions regarding how much he can improve at the NBA level.
Overall, the Bucks could have used a guard with one of their two picks, and they got a solid one in Brogdon.
NBA Comparisons
NBA.com: George Hill, Utah Jazz
Bleacher Report: Tony Allen, Memphis Grizzlies
Pick Grade
A-