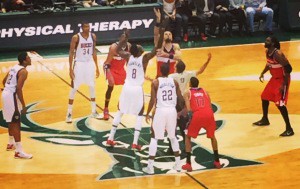 Milwaukee, Wisconsin — Every time the Bucks and Bulls play whether it is in Milwaukee or Chicago it is always an electric atmosphere. It was no different as Chicago fought Milwaukee to a 95-86 victory on Tuesday night. The rivalry is special this season because Jabari Parker, a former Chicago Simeon Wolverine, will face off against fellow Simeon alumni Derrick Rose.
Prior to tip-off, Derrick was on the court warming-up and was questionable to start. To a surprise of everyone when starters were announced, it was official that Derrick Rose was starting for the Chicago Bulls after sitting out in the last two games.
In the first quarter Parker and Ersan Llyasova came out and dominated, together shooting 6/9 from the field and had 13 of the 21 points to end the quarter and after that they were silent for the remainder of the game.  The Bulls points were spread among each other to end the quarter with Rose, former Marquette star Jimmy Butler and former Buck Mike Dunleavy having four points each and Taj Gibson leading the team with six points. The Bucks shooting percentage was quite low at 36% compared to Chicago's 47%, however they were only down by two points.
The second quarter belonged to the Bucks' bench as they brought a lot of offense compared to the Bulls' bench which wasn't helpful. Chicago's bench during the 2nd quarter played a total of 22 minutes and only produced 2 points. Gibson continued to dominate for the Bulls and on the other side of the court Giannis Antetokounmpo and John Henson gave the Bucks some offense as they shot 5/7 from the field and had a combined 12pts. Brandon Knight and Derrick Rose gave the crowd a little excitement in the final minutes of the half as they played head to head and quite competitively.
"It's just basketball, it's just competing." said Rose when asked what did Knight do to motivate him. "I forgot what he did to get under my skin, but it was just something that had me going."
By that point the Bucks were leading going into the 3rd quarter 53-49. In the first few minutes of the second half it was all Chicago. Gibson and Pau Gasol decided to take over the game from that point and the Bucks had to call a quick timeout as there was no offense for the Bucks. Bayless and Mayo kept the Bucks in it and going into the fourth Milwaukee was down by two.
The fourth started off with excitement, but towards the end Chicago found a way to close the game.  Butler and Gibson continued to dominate and Milwaukee struggled to find a basket. Chicago outscored Milwaukee 23-16 in the 4th and won the game. The Bulls are now 4-1 and the Bucks fall to 2-3.