He's won a state championship. He can shoot the lights out of the gym. And his motivation comes from knowing how blessed he is to play the game he loves. Meet Cody Wichmann, a hard-working, humble player who is a juggernaut from behind the arc. A Pulaski native, Cody brought the city its first-ever state title in any sport and holds the schools'all-time scoring record with 1,372 points. He was named the Press-Gazette Media Boys Player of the Year and made the Division 2 First Team All-State selection by the Wisconsin Basketball Coaches Association as a senior. Milwaukee is happy to have him as he turned down other school's including Green Bay, Texas A&M Corpus Christi, South Dakota and Idaho State.
In his second season as a Panther, Wichmann is seeing more playing time and proving why head coach Rob Jeter recruited him to play here.
"Cody brings to our program a high basketball IQ and an ability to shoot the basketball," Jeter said. "This year we have asked him to play out of position and he has willingly accepted that role. Cody is a player that will do whatever it takes to help the team."
I introduce to you, Cody Wichmann.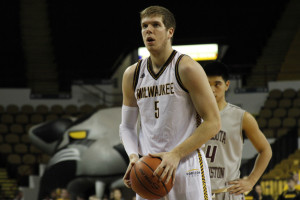 Q: I know you had great success in high-school at Pulaski and brought them a state championship. How was Milwaukee able to grab your attention over other offers?
CW: I was in Las Vegas and it was my sophomore year playing AAU for the Playground Warriors and coach Jeter called me and offered me a scholarship. It was my second Division 1 offer and I was really excited. I kept my options open but coach Jeter was on me all the time. He called me and went to all of my games. It just felt right to come here.
Q: You can really get it going from long range and last year I wondered why you weren't in the line-up near the end of some games when the team could of used you. Was there a reason for that?
CW: Um, I don't know. I was a freshman. I didn't really make any shots early in the season just yet. I got my time later in the season.
Q: Are there any perks of playing with Michael Jordan's nephew?
CW: I mean Justin is a very humble kid who kind of keeps to himself. But it is pretty cool. I personally don't ask him about that stuff because he probably hears it 24/7. He just says maybe he will come to a game. I think it would be pretty cool if I got to see Michael.
Q: What do you expect from your team this year?
CW: We have all the pieces we just have to put them together. I mean we showed against Auburn that we can play with anybody. The pieces are there and I think we have a chance to be a really good team this year.
Q: What was the experience of being a freshman last year and getting a birth in the NCAA tournament? Did anyone take you under their wing?

CW: All the guys did. Especially the seniors like Kyle Kelm and Roelke and Q and Malcom. They all showed me the ropes and just how hard you have to work to get where you want to be. What a great way to end it for them and a great way to start it for me and to try and get back there.
Q: With that being said, how big of a let-down is the NCAA ban for this season and how do you stay motivated?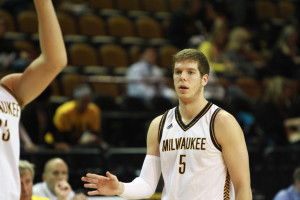 CW: It was a little bit of a let-down but knowing that we didn't have anything to do with it (the ban) is kind of the hardest part to swallow. We don't deserve this because our team wasn't the team that did it. But in life you face adversity and you just have to push through it and work at your game.
Q: How does coach keep you guys motivated?

CW: He preaches that a lot of people expect for us to throw in the towel and that we are basically taking the year off. I think we're going to prove people wrong and try and win the Horizon League tournament because they can't take that away from us.
Cody will have to rise up a little more this season as the other three-point shooter on the team, Austin Arians announced he will red-shirt this year because of injury. Cody is "Steph Curry with the rock" and is prepared to take care of business anyway he can this season.
If Milwaukee is down to their last possession down three, look for Cody to take the last shot. A betting man would put money on it.