Milwaukee's last minute comeback came to end on the games last shot, as Omaha senior Felicia Anderson drilled a corner three at the buzzer to give the Mavericks a 64-61 victory over UWM.
Heading into the final 40 seconds, the Panthers found themselves trailing 60-54, but after a Jordyn Swan three and a pair of free throws from Jenny Linder, the lead was cut to a single point. The Panthers sent Omaha to the line where they made only one of their free throws giving Milwaukee a chance to tie the game. The Panthers did just that after Linder made a lay-up to tie it up with 6 seconds remaining.
Omaha in-bounded the ball quickly and got the ball to half court before finding Anderson in the corner for the game winner as time expired.
"This is a heartbreaker," Milwaukee head coach Kyle Rechlicz said afterwards. "But I told our team in the huddle afterwards that if losing this game on a last-second shot helped us understand how to play in a game like this once we get to conference, then I'm okay with the loss as long as it will apply and help us in the future."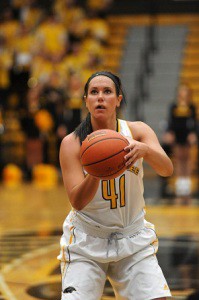 The Panthers seemed to struggle offensively for most of the game as they ended up shooting just 34% on 19-56 shooting. Including poor shooting from the three-point line (28%) and ended the day going 7-25.
Other than the game winning shot, the biggest key to Omaha's victory was the way they defended Senior Ashley Green. The Mavericks held Green to only ten points, her lowest point total of the season. Green came into today's game as the sixth leading scorer in the nation averaging 25.5 points through the first six games.
"I think we will see that a lot," Rechlicz said. "She didn't have an opportunity to get many touches on the ball and I know it frustrated her."
UWM seemed to gain control late in the first half after senior Macie Dorow hit a three-pointer to give the Panthers a four-point lead with only 2:29 left. Unfortunately, the Mavericks went onto score the final seven points to give them a three point lead heading into the half.
Omaha held the lead the majority of the game as they were ahead for a total of 26 minutes while UWM was only ahead for 8 minutes.
Jordyn Swan led the Panthers in scoring tallying 16 points. Jenny Linder also had a productive game as she finished with 15 points.
The Panthers take the court once again on Wednesday as they host Eastern Illinois. The game will be held downtown at UWM Panther Arena as part of the guys and girls doubleheader. Tip off is set for noon.