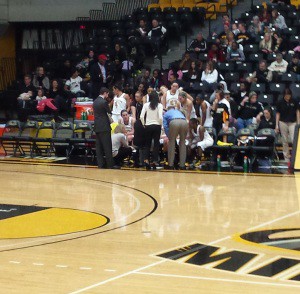 Nine out of the eleven players that suited up scored Sunday afternoon as the UW-Milwaukee Women's basketball team beat the SW Minnesota St Mustangs 87-48 in their lone exhibition game of the season.
Milwaukee took the lead right from the beginning and held on to it for the entire 40 minutes. Offensively, the Panthers looked sharp, ending the game shooting 45 percent. They were scoring inside and outside with each player playing a part in the success.
The Panthers were lead by junior forward Jordyn Swan who scored 20 points on 8 of 10 shooting. Swan did most of her scoring in the first half as he she tallied 17 points after the first 20 minutes. Panther head coach Kyle Rechlicz noted after the game that for the team to be successful this year, they are going to need to Swan to step up.
"Jordyn really came to play today," Rechlicz said. "The biggest thing we've been talking to her about is just competing consistently, it's the word she's been using the most and she wants to really consistently compete and I think she did that today."
Senior forward Ashley Green also played a big part in the win as she ended the game with 18 points and four rebounds.
Milwaukee held the Mustangs to under thirty percent shooting while causing 32 turnovers resulting in 29 points for the Panthers. Milwaukee was pressuring the Mustangs ball handlers the entire game, which lead to turnovers and quick shots.
"I think it all started with our on ball pressure," Rechlicz said. "That's something we are really looking to do this year is pick up our ball pressure a little more now that we have some athleticism at the top."
Another aspect of the game that pleased coach Rechlicz was the play of her freshman. Each freshman played at least 15 minutes. Steph Kostowicz and Jenny Linder each ended the game with 11 points.
"I'm expecting them to play a lot of minutes this season," she said. "If we really want to play the tempo that we want to play at and push the ball and be a transition team, then we are going to need to go into our bench and we are going to need to have them step up and play a lot of minutes."
Milwaukee opens up their regular season next week Sunday as they travel to North Dakota St to take on the Bison.