The Milwaukee's Men's Basketball team celebrated their season and wished their seniors good-bye at Joey Buona's last Thursday. After winning the Horizon league championship and getting a birth into the NCAA tournament, Coach Rob Jeter explained how there was plenty to be happy about.
As the celebration was coming to an end, Jeter briefly mentioned the post-season ban for next year. Telling fans that they all just have to keep moving forward and reminding them that tonight is not about that.
Due to trouble in the classroom, Milwaukee won't be able to play in the post-season because the NCAA banned them for Academic Performance Rate scores.
For seniors Jordan Aaron, Kyle Kelm, Malcolm Moore, Thierno Niang, Mitch Roelke and Quinton Gustavson, they get to go out on a season they will never forget. The younger players are stuck with trying to get the program headed in the right direction–again.
With the ban in place, Milwaukee will most likely lose out on recruits for next year. It's a low point for this team, but freshman guard Cody Wichmann isn't panicking.
"It is what it is. There is not much we can do as a team but focus on getting better and hopefully getting back to the tournament in two years," said Wichmann.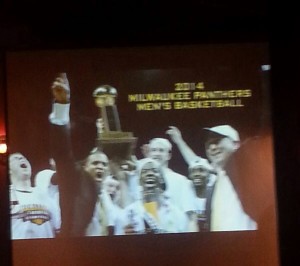 Many other players shared the same thoughts. As Coach Rob Jeter preached all night about moving forward, the players responded with identical thoughts. Dan Studer, a red-shirt sophomore, is looking forward to next year.
"I don't think it (the ban) will affect us too much. I mean obviously its not good in any way shape or form, but it gives us a year to improve and you know just work on stuff that maybe we wouldn't work on," said Studer. "Otherwise next year if people red shirt, we can get stronger and better and faster and the guys that maybe weren't playing much can get an opportunity to come in and play some more if people do red shirt. But overall I don't think it will be a terrible thing."
As the younger players try to get past this whole incident, Panther fans are also trying to look past it. Most fans see it as a throw away season. They can go undefeated and it still won't mean anything. Milwaukee already has a hard time selling tickets and next year should be no different.
Other fans are taking a different approach to this. A positive one. Season ticket holder, Ben Graves, still plans to cheer his team on.
"Yeah, I am still going to attend the games. I'll be disappointed if they have a successful season and they don't get an opportunity to play in the post-season but I'll be more disappointed in the players than for myself," said Graves. "I am still looking forward to the season. I like college basketball and I want to go out and support my team."
Graves also understands the let down this news had on all of Panther nation.
"It was a let down and you hate to see it happen for a couple reasons. One reason is you hope to see student athletes that are going to be successful students first. Its disappointing it hasn't happen to this point," said Graves. "Its also disappointing for student athletes to work so hard and not be able to go. I also feel for the seniors because that's the last chance they have."
It's going to be a long off-season for the Panthers. This is a black-eye for the program and without a doubt, sets this program back. With recruits picking different schools and fans choosing to pick up a new winter hobby, it will be interesting to see how the program will bounce back from this.
Not to mention the rumors over the past couple of weeks that involve Milwaukee players being recruited to other schools. Nobody wanted to touch that question and Cody Wichmann was very brief saying "not really."
Nobody can predict the future, but it seems as if the players aren't going anywhere.
Well except to class, that is.