Club Football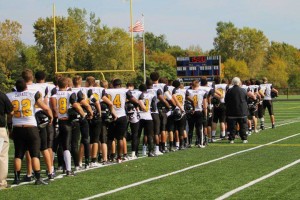 The Panthers hosted Loyola- Chicago this weekend and beat them 42-17. They jumped out to a 28-0 lead after the first quarter. From there, Coach Mogensen played his backups.
"We just stuck it in cruise control. We could have really laid it on them but we are trying to build up club football and beating Loyola by 100 wouldn't help them build their program at all, so we got ultra conservative."
One of the blossoming stars of the team is freshman tight end Brandan Stepro. He had 60 yards receiving in their loss to Robert Morris, and followed it up with 10 catches for 107 yards this past weekend.
Freshman running back Beto Zarate had 15 carries for 115 yards and 4 touchdowns. This is his second 100-yard rushing performance of the year and is ranked 4th in the country in rushing yards and 2nd in rushing touchdowns.
Quarterback Sam Clark has been Aaron Rodgers-like for the Panthers and continues to lead the country in passing.
Defensively, Senior linebacker Jack Gehringer had a pick 6 and has played pretty well the last 3 games.
With one final home against Southern Illinois on November 9th, Mogensen hopes a win can get them into some post season action.
Club Lacrosse
This past Friday, Men's Club Lacrosse battled for city bragging rights with Marquette University. Sadly the Panthers lost 10-3. Despite hanging in early on, ultimately the team fell due to lack of practice commitment and many players playing together for the first time. Some of their biggest holes were in their defensive lapses.
The bright spot of the game is that they had one of the biggest supporting crowds in recent memories. The team hopes to schedule Marquette again in the spring and hope for a better performance. For now, the Panther's lacrosse team will hole up in gyms for the winter and get better in preparation for fall ball.
Club Tennis
For the first time ever, the Tennis team has an A and a B team, mostly comprised of rookies. Both teams went down to Dayton last month and a lot of people got their first taste of intercollegiate club tennis. There were a lot of good teams like Ohio State, Cincinnati, Dayton, Purdue, etc. The Panthers won some, and also lost some, but more importantly they got to meet a lot of people and got to know each other better as a team.
A few weekends ago, the A team played in a Quad against Loyola, Northwestern, and Marquette. They lost to the very good Marquette team, lost a close one to Loyola, and had a comeback thriller at mixed doubles to beat Northwestern.
Women's Club Rugby
A few weekends ago, the UW-Milwaukee Lady Panther Rugby Football Club took a trip down to Iowa to take on Iowa State. Despite leading with three minutes left, Iowa State managed to sneak out a win. Scoring for the Lady Panthers were Samantha Bruni and Alyssa Blavat, with Alex Murphy getting three conversions and a penalty kick.
The team is rebuilding this season, and is doing well despite the team being almost entirely rookies. Despite most of them not knowing much about the sport before their first practice, they're all learning quick. Their fall season ended 1-3, and everything looks uphill from here on. Their spring season will be spent looking to win some tournaments according to team captain Tiffany Crouse. Her hope is that with proper training, the young team can learn and become a dominant force come 2014.