UW-Milwaukee has not had a player drafted in the NFL in 39 years and has not been represented in the NFL for the last 30 years. Part of that changed on Saturday when Demetrius Harris was picked up by the Kansas City Chiefs as an Undrafted Free Agent.
Harris is the first UW-Milwaukee player to make the NFL since Mike Reinfeldt retired after the 1983 season. Harris became a rising prospect in the draft after the basketball season ended when the Kansas City Chiefs contacted Demetrius about working out for them. So it seems fitting that when the draft was over the Chiefs made another call to Harris when he was not drafted.
Demetrius Harris's agent Matthew Pope, Director of Football Operations at Exclusive Sports Agency, told me that multiple teams leading up to the draft were showing interest in Demetrius. In the end they really liked the direction that the Chiefs are headed with their coaching staff and front office. Pope and Harris feel that the Chiefs have a proven track record of being good at developing the talent that is on their roster.
Pope also said that Demetrius knows he has a long way to go in his transition and that he is not going to go from playing basketball to taking the hits that are going to come his way overnight. However, he stated that the style of Demetrius's play would help to prepare him to take the hits. According to Matthew they have trust in the staff in place in Kansas City and that there is a good plan for continuing to develop the talents that Harris has.
Demetrius Harris tweeted after talking with Kansas City:
@kcchiefs thanks for the opportunity. I'm living my dream, I'm thankful for all the support that everyone has shown. #Godbless

— Demetrius Harris (@D_NFL_Harris) April 28, 2013
Demetrius now has an uphill task to fully make the transition into a football player and make the Kansas City roster when the season starts.
Harris rose steadily on draft boards as the workout process continued. However, having not played football competitively for the last four years proved to be a setback in the draft. Harris was a star basketball and football player during his high school years, being named All-State in both. Demetrius had seven teams work him out during a pro day on campus along with individual workouts with some teams that did not make it out for the pro day.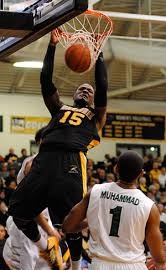 During these workouts Demetrius showed off his ability to run routes and proved that he still has the ability to catch the football. Demetrius's reported 4.57 and 4.62 40 yard dash puts him among the fastest rookie TEs now in the league, at least in shorts and a t-shirt.
After 4 years of focusing on basketball, Demetrius will now shift 100 percent of his focus on becoming a stand out football player. Harris has a lot of work to do before he can become the next Antonio Gates. Demetrius Harris is getting ready to report to camp in a couple of weeks and is thankful for the opportunity to compete in the NFL.