Tragedy has struck our nation once again due to a deadly weapon in the hands of a psychopathic murderer. On October 1, 2017 at 10:08 pm, Stephen Paddock, 64, opened fire from above at the Route 91 Harvest country music festival, where Jason Aldean was performing and 22,000 people were in attendance. 58 people have been confirmed dead, with 515 injured. Numbers are still on the rise (New York Times, Belson).
Experts say that hundreds of rounds were shot between two windows of the 32nd floor of the Mandalay Bay, and Paddock killed himself in his hotel room shortly after the shooting.
This catastrophic event has become the deadliest mass shooting in American history.
Although there are still so many unanswered questions, authorities have found no religious affiliation, no political affiliation, no criminal record, no money problems, no history of mental illness, no message whatsoever.
Just a mindless massacre with the pull of a trigger.
Gun control has been debated over and over between two mindsets, and it is either take all the guns away from everyone, or try to keep guns away from criminals but still allow us to protect ourselves.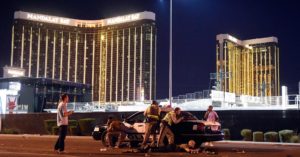 Somehow, this man had at least ten military-issue firearms in his possession. No one knows how he got them or from where. And because he had a clean record, they most likely let him walk out the door without a second thought.
Background checks aren't enough anymore. Screenings don't catch all the bad guys. There's no test to take that looks into how you will use these weapons in the future.
If you still believe in your right to firearms, I challenge you to think about what pure terror must feel like when you are singing and dancing to your favorite musician and in an instant, seeing bodies drop and hearing bloodcurdling screams.
Think about how it feels to run for your life through hordes of people or clutch your own wound, blood seeping through your fingers, in the middle of the chaos.
Think about what it would be like to look into the eyes of the families who have lost a loved one to a psychopath with a gun, or think about what it would be like to receive a phone call where someone tells you that you will never see your friend, your significant other, your family, ever again.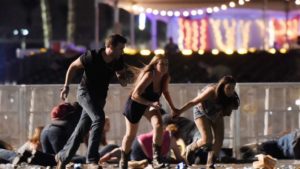 According to the Gun Violence Archive, there have been 150 mass shootings in America, contributing 6,880 deaths and 13,504 injuries in 2017 alone due to mass shootings.
6,880 people that will never see their families again or go to work or pet their dog or laugh or watch the sunset or hug their children. 6,880 that may have been saved with the passing of a law.
When has it gone too far? How many more deaths will change the minds of those fighting against the loss of their guns?
We are living in constant fear and those who say they are not are just putting on a brave face. We are passing on our attention from one tragedy to the next, without doing something differently.
Be heartbroken. Be outraged. Be devastated. But also, be the change.