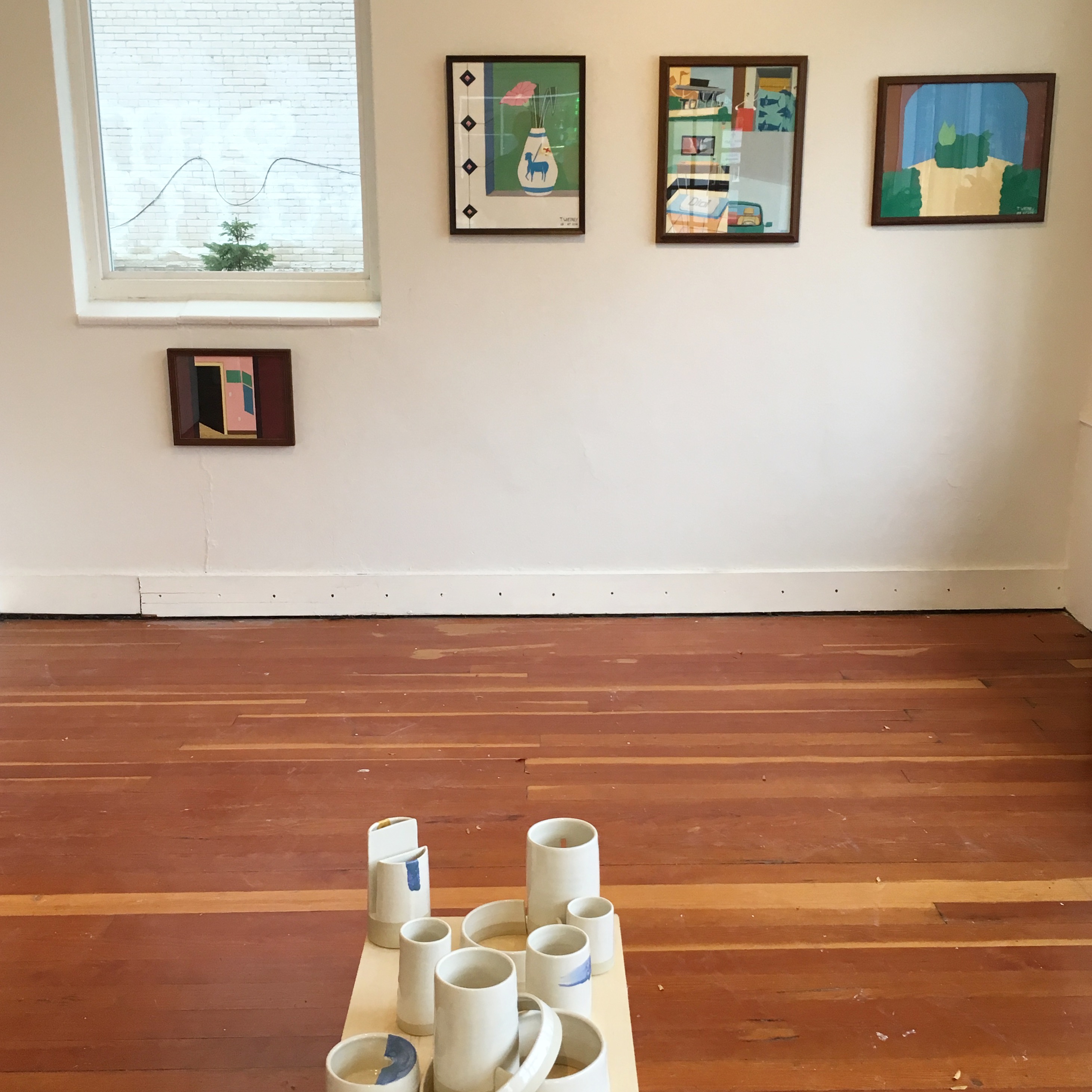 In the heart of one of Riverwest's most popular streets sits one of its newest business; a community art studio, Yours Truly, run by seven millennials under the age of 24.  Established in June 2017, the ever-growing space is in the hands of University of Wisconsin-Milwaukee students and alumni.
Located at 833 Center street across from Fuel Café is Yours Truly. Resting on the corner, three massive windows with potted plants catches the window shopper's eye. Residents of the area often wander in to see what has since replaced a construction worker's storage space. Curious strollers meet the seven young adults who formed a team to put together an art space for the community. Co-founded by Basha Harris, Ethan Kastner, and Meg Zimont, the remaining team members include Olivia Debaker, Shawna Hays, Yvette Sanchez, and Kelsey Parks.
The space appears as one room, split into a front and back room. The front has big windows with yellow tiles, bright walls with zig-zag trims, and a uniquely shaped door. Walk across the wood floor and you pass into the studio where the seven resident artists work. There is a ceramics corner, a space for metalsmiths, fibers, and some for print-making. A rocking chair sits in the back corner next to storage space near books, records, and a sewing machine. The white walls are contrasted by pink doors. Artistic posters and clay creations inhibit every inch of the studio. In the back is a pink room with a kiln, which was given for free with the help of a friend. The pink room is also a glaze room with a sink, cement floors, random tools, and is used for storage.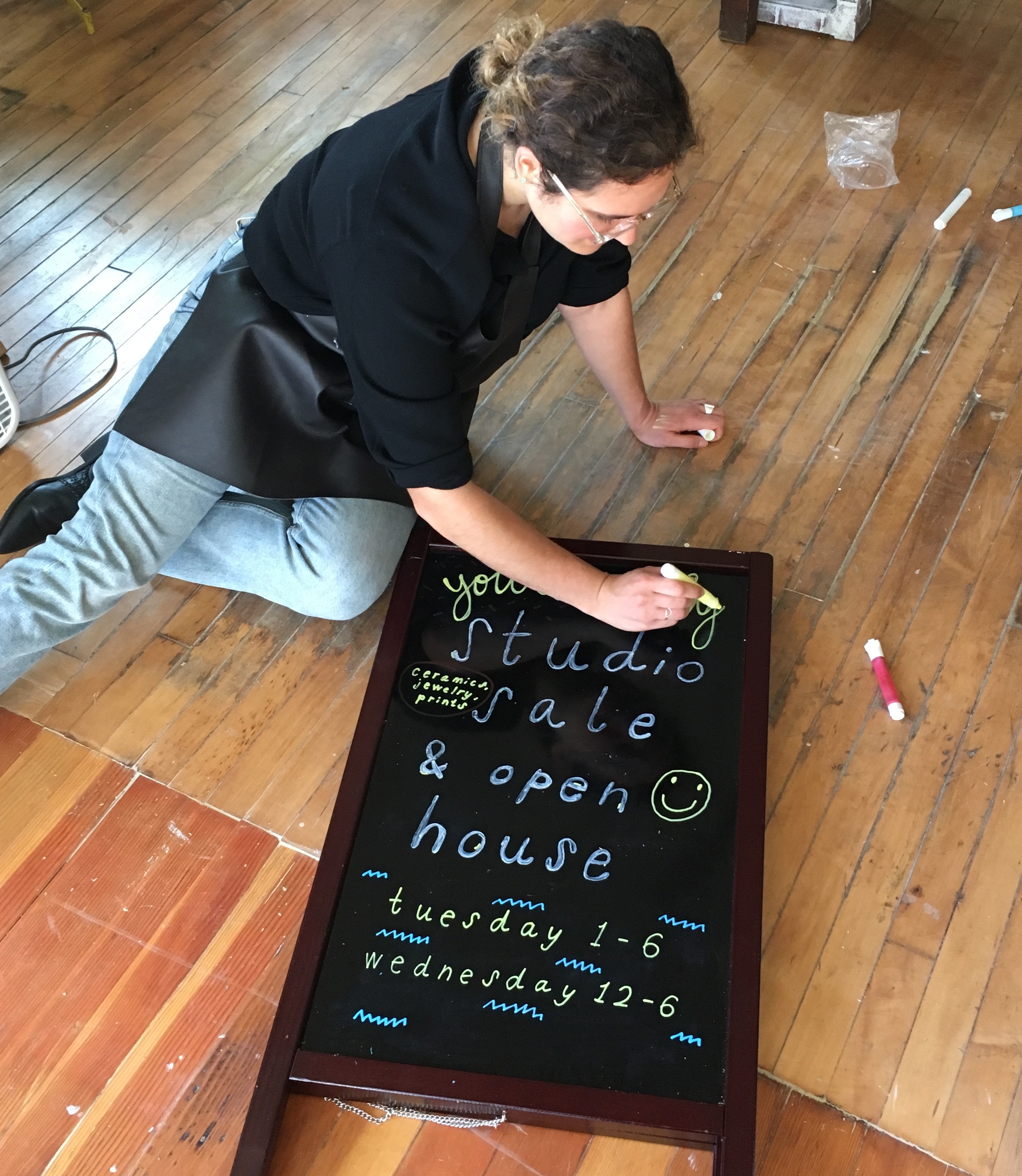 "The front room really rotates with what we do," said Ethan Kastner, co-founder of Yours Truly. "We have been doing a lot of different things."
Since opening in the summer, Yours Truly has had two gallery shows, a clothing sale, and a film screening. It also provides space for different discussion groups and workshops. The studio is in the works and with their small space, they are working on hosting workshops and being able to have open hours. They also want to let other people use the space with their team, but there is limited space. By meeting those who curiously wander in and making connections with friends and in the Milwaukee art community, they hope to open their doors for everyone as much as possible.
"We would like to support younger artists who have not exhibited extensively," said Kastner. "We want to show and support artists whose work is relevant and challenging."
Besides supporting artists in their own neighborhood in Milwaukee, Yours Truly strives to show others works and encourage organizers to utilize the space. The team members are interested in creating more vast Midwestern partnerships with individuals in cities such as Madison, Chicago, Cincinnati, Minneapolis, and Indianapolis.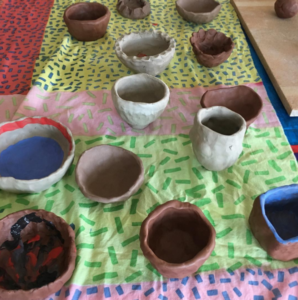 Splitting the rent, discovering how to become an LLC, and learning about business insurance were just a few of the steps the team conquered. They were required steps they knew their team could do since they organically came together.
"We gather research through listening to what the community has to say," said Harris. "As well as internally figuring out our needs as practicing artists, working individuals, community members. We are always ebbing and flowing."
Harris, Kastner, and Zimont met at UWM where they participated in the Community Arts program in the Department of Art and Design together.
"The intricacies of the program have been essential to our personal and collective approaches regarding working with others in the community and creating the culture and manifesto of a space," said Harris.
When Harris graduated and briefly moved to Madison, she and Kastner brainstormed about starting a studio together. Harris returned to Milwaukee and the two began talking to friends to see who would be interested in joining them.
"I think a weirdly helpful thing that happened was the fire at UWM's Peck School last year," said Kastner. "I was finishing my senior project and for weeks I couldn't work on anything, so I had more free time. I could invest time in looking at spaces. We got the right group together and we're really lucky to have this beautiful space."
Harris and Kastner both teach art in the community, Harris at Walkers Point Center of the Arts, and Kastner at UWM, Discovery World, and around the state. Kastner's work includes teaching seniors at nursing homes by participating in the Student Artist in Residency program led by Anne Basting. As for Zimont, she works for UWM as well as a design studio called BlackPaint Studios.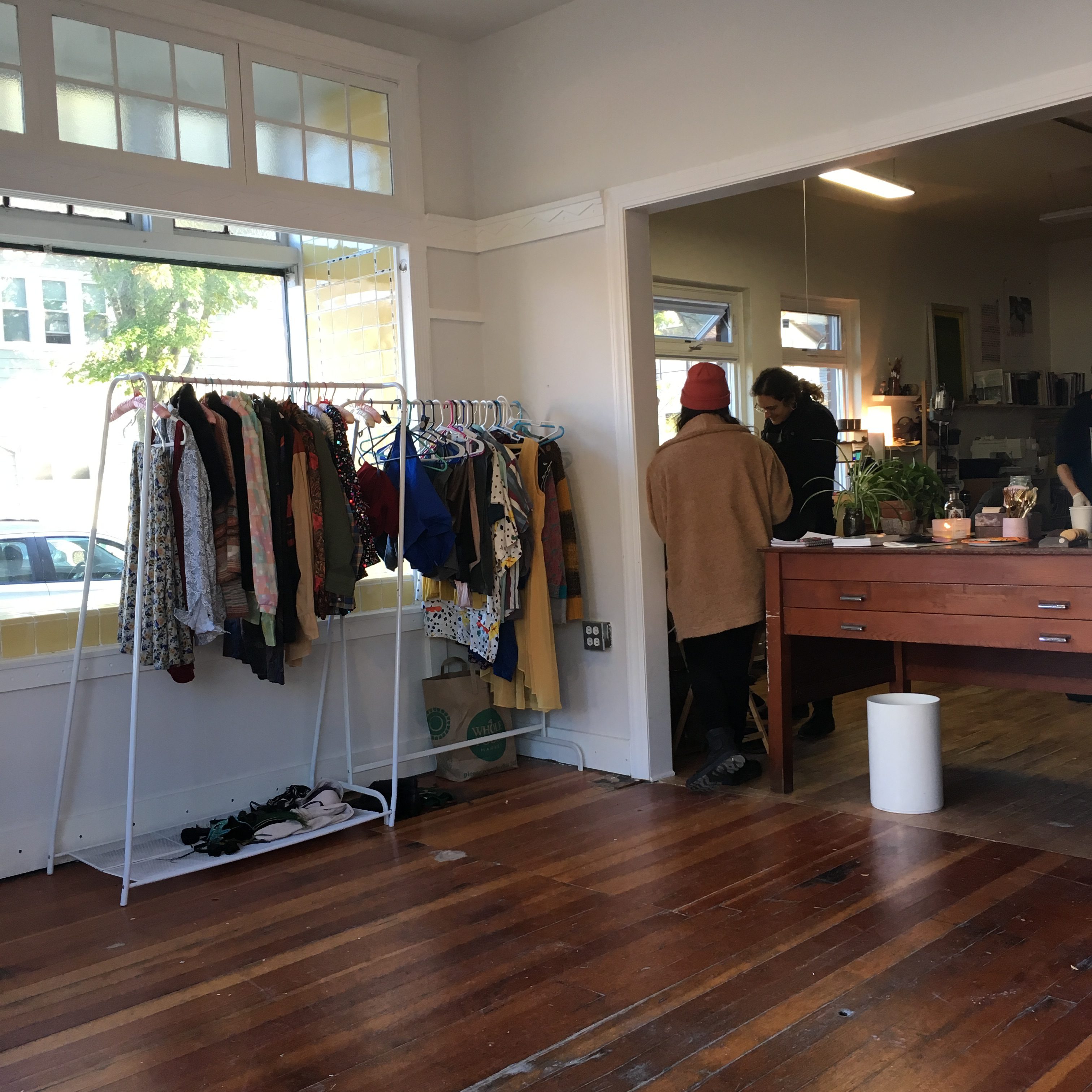 "One thing Ethan and I have talked about a lot is how we are a new generation of art organizers and social justice organizers," said Harris. "We are not solely focusing on contemporary popular social justice issues, but we're incorporating our artist practices and they are speaking to each other. Being a space that offers safety and artwork is something that a lot of people are gravitating towards."
The name Yours Truly is something the team wanted their artist practices and universal desires to mirror.
"The name made a lot of sense, because we wanted to be a community committed space and that is what we are working towards right now," said Kastner. "We don't want it to be just the artists here coming up with ideas, we want other people to think of what to do with the space and provide it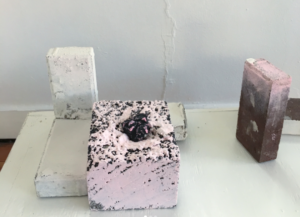 for them. The name Yours Truly reflects that."
The studio is open for galleries and receptions. Yours Truly has proposal forms for whoever wants to hold a gallery show. The team members then meet to discuss if it is a good fit, questioning where the artist is coming from and what is their work about. The agreement is that the artist would consign their work. For future shows, they would like to include workshops put on by the artist in exchange for having their work shown.
Though Yours Truly is currently limiting the amount of people in the studio due to the arrangement of the space, their biggest goal is having regular hours and having consistent events.
"Right now we are trying to work with people we've met coming in or friends we know to help us figure out the best organization for working in the studio," said Kastner. "We want them to work here, see problems, and help us make this comfy for everyone."
Yours Truly is currently in a change-up with studio artists. The artists in the space fluctuate. Though the team is still building their ever-growing studio, they remain positive as they plan upcoming events such as release parties.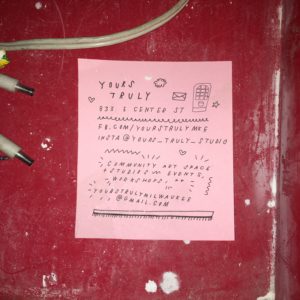 "Something that has worked for us is trusting the process in doing things step by step," said Kastner. "We have a vision of what we want to happen, but we understand priorities and things must happen. We are taking the time that is needed, and we trust that if we can do it if we try."
The team members pride themselves for being young and thrusting themselves into the business.
"A lot of older alumni from UWM have spoken with me about feeling jealous, wondering how we were able to organize ourselves," said Harris. "They've expressed that is exactly what they wanted to do right after school or that it has been a longtime dream. Others are motivated by that."
The team members have been empowered by recent graduates before them who have pursued ambitious projects, such as participating in artist residencies or creating galleries. Harris describes these life decisions as self-loving and supportive to one's artistic practice and creative needs.
Kastner, Harris, and Zimont defines the new space as crucial for artists.
"I think many artists find studios right after graduating," Zimont said. "Space is essential to facilitating your practice. Even when artists have a home studio, it can be unmotivating to be without peers and critique. Maybe establishing a space of our own rather than joining an existing space is unique, but it was also necessary."
With the business on the rise, the team enlightened that the space is ever-growing and continues to ebb and flow to the like-minded artists of Milwaukee.