The Milwaukee Panthers' men's basketball team bid farewell to their two seniors, Evan Richard and Steve McWhorter, during the program's senior salute on Thursday, April 30 at Joey Buona's restaurant in downtown Milwaukee. Guests included the players and some of their family members and significant others, along with assistant coaches and other contributors to the program. Not only was it a salute to the outgoing players, but a tribute to the team and their play during a somewhat rough season for the program.
After all, the team was suspended from postseason play this past year for low academic scores.
The players responded beautifully in the classroom, as they raised the team grade point average to a 3.1, improving every month of the season. They also answered the bell at Panther Arena, as two players, McWhorter and junior forward Matt Tiby, received second-team all-Horizon honors, McWhorter doing so after leading the team in points, assists and steals and Tiby leading in rebounds. The team won seven of their final nine games to close the season.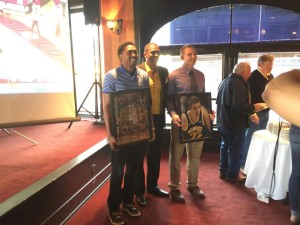 Coach Rob Jeter spoke on the accomplishments and on how the team will approach next season considering it will be eligible for the postseason again.
"Our guys have been doing phenomenal in the classroom," he said. "We have a perfect APR score and we're probably going to have a second perfect one coming up. So that will be two straight years. With our team, usually when something like this happens, your team can break apart. Guys will transfer, guys will leave, but no one left."
"What that means is that we're really set up to have a strong base and a really strong future based on the players we have in the program right now. Our leadership is going to start with our next group of seniors: Matt Tiby, J.J. Panoske and J.R. Lyle, with Austin (Arians), Cody (Wichmann), and Akeem (Springs) and all those others that move into that junior class behind them. And then you see the freshmen and the sophomores; we really have groups that are staggered out that are pretty talented players."
Jeter also spoke on potential exciting aspects of next season.
"I'm really expecting J.J. Panoske to have a year where he finally plays to that potential. He's getting stronger, he's getting bigger and he's confident now. I feel confident in him and I think that's the key. Matt Tiby, if he can continue to be an all-league player. I think those are… we're expecting that. Does that always happen? No. But, if you look at the other guys around you, Austin Arians is a player that showed that he could have been an all-league player, but he decided to sit out. We have two more years with him, and he had 16 points in our NCAA Tournament game against Villanova."
"We've got some young players that are really athletic and intriguing, and a point guard coming in who is a JUCO All-American. So, we have good pieces, and putting it all together, this could be one of our deepest teams."
Tiby also commented on next year's potential.
"We're hitting the weight room right now," he said. "Just trying to go out there and give 100% at practice. The team's coming around right now and we're trying to get back to the tournament, so our focus right now is to win the league. So we have to make some jumps and our biggest weakness is our strength and we're hitting that hard, so we're going to be ready for this upcoming season."
In addition, Tiby talked about possible exciting developments and he seems to agree with his coach.
"I can't wait to get Austin back on the floor," he said. "He spreads the floor a lot and he gives us a presence on the three-point line that no one can create in the league. I'm looking forward to him and J.J. Panoske's gonna give us good minutes down low. He's our enforcer down low, our big post, so he's gonna sit down low and hopefully get us some buckets down low."
"We're gonna be focused and we're gonna have a drive to us," Tiby said regarding playing next year without a postseason ban. "We're just going to keep on going through the competition and, hopefully, we can win some games that people aren't looking at us to win. So we're just going to go out there and have a focus towards our goal and just take every single game one-by-one."
Senior associate athletic director for external relations Bill Behrns kicked off the salute with an opening speech commending the seniors for their work ethic and persistence through the ban. In addition, he lauded second-year athletic director Amanda Braun for her work with the sports programs, notably her securing the university naming rights for the arena. Braun spoke next.
Her main focus was on the academic achievements of the team. She pointed out the increase in the grade point average and how the progress both on the court and off has helped the program financially. In addition, she commended the support from alumni and players' parents and the leadership of Jeter, who followed her at the podium.
Jeter reiterated the academic achievements of the players, going in-depth on them. He listed the monthly increase in GPA as well as the vast improvement in the APR score. In addition, he talked about the schedule for next season, including their participation in the Gulf Coast Showcase Tournament from November 23-25 of this year. He also discussed the possibility of playing a big Midwest opponent (such as a B1G school) on the road, citing the possibilities of financial benefits and a big win. Then, he began honoring everyone who helped the team in a significant way, starting with the managers and continuing with video coordinator Allan Hanson and director of basketball operations Chris Hill, both of whom were players on the last Milwaukee team to win an NCAA Tournament game (2006). After that, he called up the assistant coaches, the underclassmen, and, finally, the seniors, who both gave a farewell address.
Both Richard and McWhorter basically thanked their teammates and coaches during their speeches. In addition, they talked about how the team stuck together in the face of adversity from the postseason ban. McWhorter elaborated by referring to the team as a family and how families get through tough times and come out stronger. That being said, he and Richard both referred to their teammates as "brothers" and each got an ovation from each one of the underclassmen.
The crowd and the players slowly began to leave after the speeches. Richard and McWhorter talked about their time at Milwaukee.
"I've been here for five years so it's hard to pinpoint something individually," Richard said when figuring out his favorite part of playing at Milwaukee. "I would say our NCAA Tournament run last year would probably be the highlight of my career."
"I really enjoyed it… it was a great experience all the way around," he said, regarding his career at Milwaukee. "It's something not a lot of people get to experience. I learned a lot and moving forward, I think it will help me a lot."
Richard will graduate with a double major in finance and marketing and will look to test the job market. There are no basketball plans in his near future.
"Playing for the Panthers, it was a great experience," said McWhorter. "Being from Racine, being so close, it was kind of like coming home when I transferred to come play at Milwaukee and, you know, my three years here; I couldn't have asked for a better time or experience."
McWhorter also gave some feedback on going to the NCAAs last year.
"It was a great feeling," he said. "Not many players get to that point. That's every kid's dream and to get there, it was like the highlight of my college career, I have to say."
In addition, he commented on playing without a postseason.
"You know, I love playing basketball," he said. "I've been doing this since I could walk so I see every year as playing for pride. Although there was no postseason this year, me and my guys, we took the court and we were playing to win. It was definitely something I learned from this year, just playing for pride and playing to further my career."
His favorite memory was winning the Horizon League Tournament.
"Last year, nobody had us winning," said McWhorter. "We finished the regular season on a bad note and coming into the tournament, me and my guys believed but nobody else believed in us. To prove everybody wrong, you know, that's just an experience and a moment that you'll never forget and that's definitely the highlight of my career here."
McWhorter plans to sign with an agent and play overseas next year. He is not planning to enter the NBA draft, but is also not excluding the possibility of tryouts with teams. He will graduate with a business degree.
Richard was a member of teams that appeared in the NIT, CBI and the 2014 NCAA showing. He was part of 82 wins during his five seasons. McWhorter transferred from Indiana State after two seasons and sat out the 2012-13 season. He was an instrumental piece of the surprise Big Dance team and finished his Panthers career being part of 43 victories.