Reggae's living legend Ziggy Marley, musician, and son of Bob Marley, is coming to Milwaukee Oct 4, 2016 to perform at The Pabst Theater. With sixteen total albums, seven Grammy awards, an Emmy, a children's book, a monthly show, and running his own organic hemp products to name just a few, he somehow had time for a ten-minute interview.
He spoke on behalf of his sixth studio album Ziggy Marley which released in May this past year. While touring, he continues to spread the message of love and peace through his thick Jamaican accent.
What message do you portray in your self-titled album "Ziggy Marley" and what makes it different than the others?
-Ziggy Marley: Well, there are a lot of messages but love is my theme. Love has been my theme for a long time. We also talk about the unification of the people. We hope and wish to open up people's minds on issues of war and why we have to stop fighting all these wars. Also, on why we have to stop kicking people against each other. It is very timely, but I have to say, if you listen to the record, there are very optimistic songs with different lyrics in it. If you like to be in the shallow water, you can be there in the shallow if you don't want to go deep, but if you want to go deep, there's deep water there too.
Specifically, you said you focused on war a lot in the album. What other issues did you focus on?
-Ziggy Marley: People issues and bringing people together. Marijuana issues. The idea of un-demonizing the plant and using the natural resource of it and the benefits. Also, human kindness, sadness, and different elements.
What were some challenges you were faced with when creating "Ziggy Marley"?
– Ziggy Marley: Challenges were to make sure that musically we did something different than the last record so there wasn't a repeat and to make sure that the songs were fresh lyrically and that I got the sound I wanted to get on the technical side of it.
How have you been keeping reggae creative and infusing it with spirituality?
– Ziggy Marley: A part of the music, is a part of us, and an extension of who I a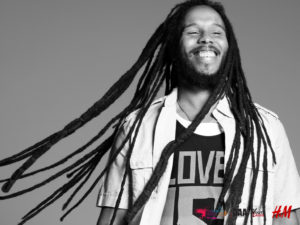 m. My life is one that explores spirituality, that explores the boundaries of human existence and of my existence. So, it is in the music and I am very open minded, so the music is very open minded also. It is my music, it is not cookie cutter reggae music. It is my own music, it is very free.
You've been consistently touring, can you tell me a bit about the current touring?
– Ziggy Marley: This is the third leg of the tour. We've been touring since a little bit before May. So far, we have done two tours in America, so this is the third leg of the tour in America. We've evolved a lot musically and personally so the expression that people will see on this tour would be the point of where I have evolved from before. Somebody who has seen me before, it is different on this tour. If you've never seen me before, then this will be a great experience for you.
Do you have a message for young adults who are trying to find themselves in what seems to be this increasingly violent world?
-Ziggy Marley: Keep an open mind, don't let any ideologies or concepts limit you. There is always more that you can be and learn that is not written in a book. I think there are certain things that are good, to begin with, but don't let anything limit you or your thoughts or your questioning. Don't be limited by ideologies.
Do any ticket proceeds from these shows go towards any of your humanitarian work?-Ziggy Marley: For this specific show, I don't know. Usually, money from each ticket goes to the charities and to educate kids.
Catch Ziggy Marley on Oct. 4, 2016, at the Pabst Theater. Tickets can be purchased here.
His new album, Ziggy Marley, can be purchased here.