The season seven premiere of "Archer," much like its titular character, is fast-talking, crude, smart as a whip, unexpectedly and impractically silly at certain points, and, overall, endearing despite the stench of alcohol and blood stains it so proudly displays.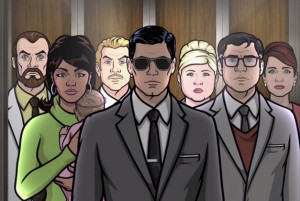 For those who may be unfamiliar with the show, "Archer" is an animated spoof of the spy genre, with its eponymous lead—Sterling Archer—being both the world's greatest secret agent as well as the world's greatest alcoholic, womanizer, and all-around debaucherous-yet-lovable guy.  The show follows Archer's exploits in the field of espionage and features a solid cast of supporting characters, such as the sado-masochistic Secretary Cheryl Tunt, the guy's girl H.R. Rep. Pam Poovey, the often-underappreciated Accountant Cyril Figgis, the subtly twisted Head of Research Algernop Krieger, the flamboyantly sharp-tongued Field Agent Ray Gillette, the beautiful no-nonsense Field Agent Lana Kane—now Archer's wife—and finally, the deadly ice-cold Mother of Archer himself, Malory Archer.  Throughout the Seasons, this malleable cast of characters has found themselves working as private espionage agents, hitmen of the C.I.A., drug-traffickers for their own cartel, and now they seem to have landed themselves in what appears to be California, working as private investigators.
And investigate they do.  When the wealthy and powerful actress Veronica Deane comes to them with a job to retrieve a disk drive containing sensitive information from a sleazy lawyer's Hollywood Hills house, the gang sets out to do just that.  After a series of slip-ups which includes not only being attacked by guard dogs, but then also falling off the side of a building because of said guard dogs, they manage to recover the disk and return it to the client, only to have another woman walk in moments later after the first one departs claiming to be the real Veronica Deane.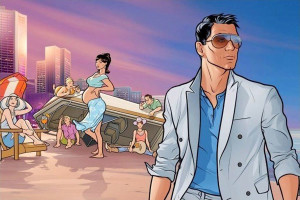 Having a show like "Archer" back on the air is always a nice change of pace in terms of viewer experience.  No other program on television is written in such a uniquely and acerbically lightning-fast style, so it almost feels like a breath of fresh air to see the characters back at it again with new material.  And not only is the show's writing airtight, but the animation—relatively speaking in comparison to past Seasons—is fantastic, with characters finally having nearly a full range of motion in regards to gestures and facial expressions.  It's certainly exciting to imagine the new possibilities that open up with more mobile, flexible character models.
However, as with anything, there are some scuff marks on this refurbished car of a show.  The dialogue, at times, almost goes too fast, with characters rattling off jokes and quips so swiftly that they feel like bullets whizzing by and over one's head rather than lines of dialogue meant to be understood by the human ear.  Accompanying this is a strange shift in tone for the show.  "Archer" is usually a program that appears to pride itself in devising insane scenarios for each episode while still remaining steeped in reality.  This tone, consistent throughout the past six Seasons, was interrupted by Thursday's premiere, with one of the most glaring examples being Archer bouncing cartoonishly down a hill for nearly fifteen seconds while making exaggerated grunts and yelps of pain.  This Looney Toon-esque approach is completely foreign and new to the show, and while it's certainly not bad to experiment with new styles and voices, the sudden shift was somewhat jarring and confusing at first.
Overall, though, it's utterly fantastic to see Archer and the rest of his crew back doing what they love: being marginally good at less-than-legal operations.  And despite a few bumps in the road, the Season Premiere has opened up a whole new world to the show and its characters, and I personally can't wait to explore every inch of it.