During the month of October many festivities take place around the state and country, people go to pumpkin patches, corn mazes, and haunted houses. Finding a good place that have these festivities for a relatively low cost can be hard but it can also be done.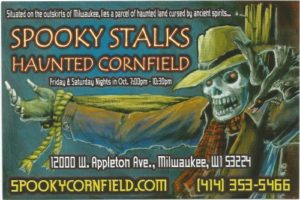 When searching for a haunted house in the Milwaukee area to attend, one option that comes up is a haunted corn maze. Spooky Stalks Haunted Corn Maze is located on Appleton Ave. in Milwaukee with a price of admission at $13. The low cost is a selling point of this haunted maze for anyone looking for a scare but on a low budget.
Spooky Stalks is a family and friend run haunted corn maze, which makes the atmosphere family friendly. Within the rules are directions to keep the experience family oriented, since the haunted maze is meant for all to enjoy. There is enough fright to go around for all ages, but anyone under the age of 18 must be accompanied by an adult.
The haunted corn maze is opened from 7pm-10:30pm or until they are filled up. By getting there early the wait, to go through the maze, is significantly less. Since it is all outside warm clothes are suggested to bring and wear. One of the waiting lines is within a small structure which provides a brief break from the nightly chill.
The haunted maze itself is built within the corn field, but don't think that people will get lost within the field. The path through the maze isn't a traditional corn maze with dead ends and multiple options. The pathway is pretty straightforward so people aren't stuck in the frightful maze forever.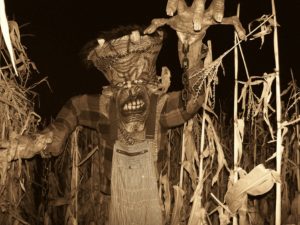 The maze is crawling with frightful monsters that patrol through the maze. Clowns, skeletons, insane people and lunatics with chain-saws pop out at the maze wanderers, sometimes even joining the group and taunting them. There is something frightful for everyone that is brave enough to go through the maze. At the end of Spooky Stalks Haunted Corn Maze, you will be left wondering if that truly is the end of the fright or if there is more along the path.
The Milwaukee run haunted corn maze is nicely run, the area is clean and the staff members are friendly. Overall, the maze is definitely worth the visit whether it is just to be spooked or have a nice time with your friends. There are only a few more days this year that Spooky Stalks will be open: October 28th and the 29th. Don't worry if you want to go and miss these days, since there is always next year.